Austin Peay Sports Information

Nashville, TN – Austin Peay State University men's tennis team has advanced to the finals of the Ohio Valley Conference Championship as the Govs upset second-seeded Tennessee Tech 4-0, Saturday, at Centennial SportsPlex.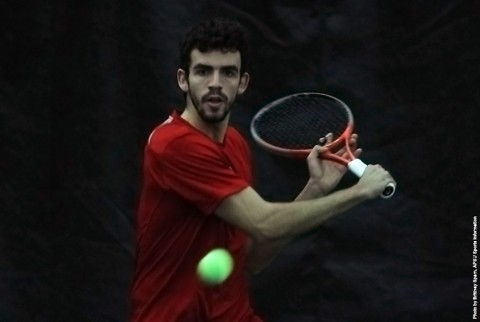 With the win, the third-seeded Govs improve to 14-7 overall while Tennessee Tech falls to 10-13 for the season.
In doubles action, the pairing of senior Aleksas Tverijonas and sophomore Aaron Jumonville picked up an 8-6 victory at the No. 2 position. The Govs then clinched the doubles point when the pairing of seniors Iago Seffrin and Dimitar Ristovski earned an 8-7 (6) win at the No. 1 slot.
In singles play, Austin Peay was led by Jumonville, who earned a 6-3, 6-2 win against Alberto Esteban at the No. 3 position and Tverijonas, who picked up a 6-4, 6-3 victory over Eduardo Mena at the No. 2 slot. The Govs completed the sweep when Ristovski defeated the Golden Eagles' Alex Arovin 6-3, 7-5 at No. 1.
The win moves Austin Peay into the finals against No. 1 seed Eastern Kentucky in a 1:00pm, Sunday match at Centennial SportsPlex.  EKU advanced to the finals with a 4-3 victory over Jacksonville State.
Box Score
Singles                                                  –
No. 1 –Dimitar Ristovski (APSU) def. Alex Arovin (TTU) 6-3, 7-5
No. 2 – Aleksas Tverijonas (APSU) def. Eduardo Mena (TTU) 6-4, 6-3
No. 3 –Aaron Jumonville (APSU) def. Alberto Esteban (TTU) 6-3, 6-2
No. 4 – Iago Seffrin (APSU) vs. Alvaro Cintas (TTU) 4-6, 4-5, unfinished
No. 5 – Manuel Montenegro (APSU) vs. Carlos Tejas (TTU) 2-6, 6-1, unfinished
No. 6. –Aleh Drobysh (APSU) def. Jorge Alfonzo (TTU) 4-6, 6-3, unfinished
Doubles
No. 1 – Seffrin/Ristovski (APSU) def. Arovin/Esteban (TTU) 8-7 (6)
No. 2 –Jumonville/Tverijonas (APSU) def. Artem Tarasov/Cintas (TTU) 8-6
No. 3 – Alfonzo/Mena (TTU) def. Drobysh/Montenegro (APSU) 8-3