Austin Peay Sports Information

Nashville, TN – Despite displaying a never say die attitude, Austin Peay State University men's tennis team was eliminated in the finals of the Ohio Valley Conference Championship as the Govs fell to the No. 1 seed Eastern Kentucky 4-2, Sunday, at Centennial SportsPlex.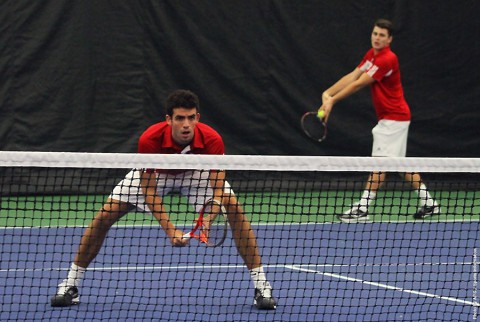 With the loss, the third-seeded Govs fall to 14-8 overall while EKU improves to 18-7 for the season. With the win, EKU has claimed the OVC's automatic bid to the NCAA Division I Men's Tennis Tournament.
In doubles action, the pairing of freshman Aleh Drobysh and sophomore Manuel Montenegro dropped an 8-4 decision at the No. 3 position. The Colonels then clinched the doubles point when the pairing of seniors Aleksas Tverijonas and sophomore Aaron Jumonville lost an 8-2 match at the No. 2 slot.
In singles play, Austin Peay was led by Tverijonas, who earned a 6-3, 6-0 win against Daridge Saidi at the No. 2 position and Ristovski, who picked up a 6-4, 6-3 victory over Alex Avaro at the No. 1 slot. Unfortunately, the Colonels were able to claim the match victory as they picked up wins at No. 3, No. 4 and No. 6 singles.
Video
Ross Brown and the Govs fought hard but could not overcome Eastern Kentucky in the OVC Tournament Championship final.
Box Score
Singles                                                  –
No. 1 – Dimitar Ristovski (APSU) def. Alex Alvaro (EKU) 6-4, 6-3
No. 2 – Aleksas Tverijonas (APSU) def. Ramon van Flymen (EKU) 6-3, 6-0
No. 3 – Daridge Saidi (EKU) def. Aaron Jumonville (APSU) 5-7, 6-3, 6-4
No. 4 – Sebas Mueller (EKU) def. Iago Seffrin (APSU) 4-6, 7-6 (9), 5-1, retired
No. 5 – Manuel Montenegro (APSU) vs. Diogo Soares (EKU) 4-6, 2-3, unfinished
No. 6. –Juanjo de la Llera (EKU) def. Aleh Drobysh (APSU) 6-3, 6-2
Doubles
No. 1 – Seffrin/Ristovski (APSU) vs. Mueller/de la Llera (EKU) 4-7, unfinished
No. 2 –Alvaro/Asis (EKU) def. Jumonville/Tverijonas (APSU) 8-2
No. 3 – van Flymen/Soares (EKU) def. Drobysh/Montenegro (APSU) 8-4
Order of Finish: Doubles (2, 3*); Singles: (2, 1, 3, 4, 6*)