Austin Peay vs. Evansville
Thursday-Friday, May 14th-15th, 2015 | Braun Stadium | Evansville, IN
Saturday, May 16th, 2015 | Raymond C. Hand Park | Clarksville, TN

Clarksville, TN – An anxious Austin Peay baseball team will face Evansville in a three-game nonconference series to conclude the regular season slate.
The Govs will travel to Evansville for 6:00pm contests both Thursday and Friday. The Purple Aces then travel to Clarksville for a 4:00pm, Saturday regular-season finale.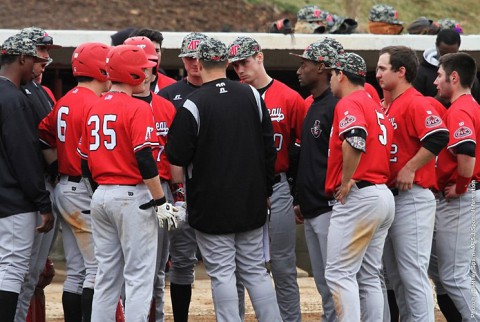 The Govs step out of Ohio Valley Conference play with their postseason fate yet to be determined (see below). Austin Peay put together a 15-15 OVC mark that left it vulnerable in the final weekend.
The Govs lost each of their final four OVC series, dropping from an 11-7 record on April 13th that had them sitting fourth in the league race.
Austin Peay and Evansville have met annually since 1984. The last four games have been played in Clarksville with doubleheaders in both 2013 and 2014. Austin Peay has won three of those four games, breaking a stretch that saw Evansville win eight of nine between 2009-12.
Tragic Number Talk
Entering the final regular-season weekend, Austin Peay does not control its own destiny. The Govs "tragic number" – the combination of its losses and wins by teams in front of it that will eliminate APSU from the tournament – stands at two entering the weekend.
Austin Peay (15-15 OVC) holds the sixth spot in the OVC table entering the weekend, but will sit idle in OVC play this weekend. The Govs will have to watch the scoreboard all weekend to see if it will play next weekend in Jackson, Tennessee.
Three teams hold Austin Peay's fate in their hands – Tennessee Tech, Belmont and Jacksonville State. Tennessee Tech and Belmont can secure their spots in the championship with one win each. Jacksonville State will have to win its series at UTM to pass the Govs for the final spot in the six-team field.
First Hacks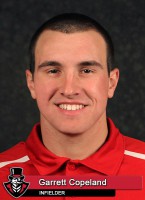 Austin Peay has lost 11 of its last 15 games overall and lost eight of its last 11 OVC contests. The Govs won only three OVC series this season (EIU, TTU and BEL), but were not swept in their seven series losses. Including last week's series loss to SIUE, APSU lost each of its road OVC series this season and eight straight road series overall.
The Govs offense enters the weekend as one of the nation's top units, ranking among Division I's Top 50 in batting average (13th, .305), runs per game (16th, 7.2), doubles per game (16th, 2.28), home runs per game (ninth, 1.04), slugging percentage (eighth, .477), on-base percentage (10th, .401) and stolen bases per game (32nd, 1.56).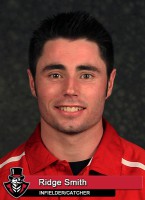 Second baseman Garrett Copeland has reached base safely in 31 consecutive games entering this weekend; he has a .477 on-base percentage (team-best 25 BBs) during the streak. Third baseman Ridge Smith has been the leadoff hitter in 17 of the Govs last 20 games and is batting .400 with 16 walks and a .512 on-base percentage in those games.
Freshman T.J. Marik has taken over starting catcher duties since Smith has moved to third base and currently has a hit in seven of those 11 games. Utility man Alex Robles has started at all four infield positions this season, including four of the last five starts at first base in place of the injured Dre Gleason. Dre Gleason has been battling a lower body injury suffered at Western Kentucky, April 28th, and has started four games as the Govs designated hitter.
Shortstop Clayton Smithson has slowly worked back into form after missing 23 games and brings a three-game hit streak into the weekend. Right fielder Josh Wilson is battling a late season swoon and had just three hits in his last five games. Left fielder Cayce Bredlau had a hit in all three SIUE contests, finishing the series 4-for-12 with two RBI.
Chase Hamilton has been the Govs starting center fielder in each of the last five games. Outfielder Patrick Massoni has recovered from an eight-game hitless streak with a hit in each of his last three games.
Toeing The Rubber
Right-hander Jared Carkuff will make his third start as the Govs No. 1, returning to the spot for the first time since Week 3. He has a 4-5 record and 5.04 ERA in weekend starts this season.
While righty Alex Robles falls into the No. 2 role this weekend, he remains the Govs' Friday starter for the 11th consecutive week. Robles saw a six-game win streak come to an end last weekend against SIU Edwardsville but his 11 OVC wins are fourth most since 1996.
A.J. Gaura is one of five Govs pitchers to record a save this season and has a team-best six saves, four in OVC play.
| | |
| --- | --- |
| Date | Austin Peay's Pitcher |
| Start | Opponent's Pitcher |
| Thu. | RHP Jared Carkuff (#16, Jr., 5-5, 4.54 ERA) |
| 6 p.m. | LHP Brodie Harkness (#20, Fr., 6-3, 4.13 ERA) |
| Fri. | RHP Alex Robles (#5, So., 6-3, 3.31 ERA) |
| 6 p.m. | RHP Matt Rodgers (#34, Sr., 4-1, 4.22 ERA) |
| Sat. | TBA |
| 4 p.m. | RHP Connor Strain (#28, Jr., 3-6, 6.43 ERA) |
| CLOSER | RHP A.J. Gaura (#36, RSr., 1-2, 6 SV, 3.69 ERA) |
| | RHP Brent Jurceka (#39, Jr., 3-2, 9 SV, 4.55 ERA) |
Broadcast Information
Weekend Radio • Govs Digital Passport
Play-by-Play: Brian Rives
Governors on the Web
Live Statistics: www.PeayStats.com
Twitter: @APSUBaseball
Digital Audio • Govs Digital Passport
Audio for all APSU Baseball contests will be available free online at www.LetsGoPeay.com/watch