Clarksville, TN – The Planters Bank Peg Harvill Gallery in the Customs House Museum has become a curiosity shop of sorts this February. Mergings: A Visual Exploration is an exhibit of glass by Tennessee artist Jennifer Crescuillo.
Jennifer has manipulated her medium into everyday objects such as data cartridges and adding machines that do not appear to be what the average visitor expects to see in a glass exhibit.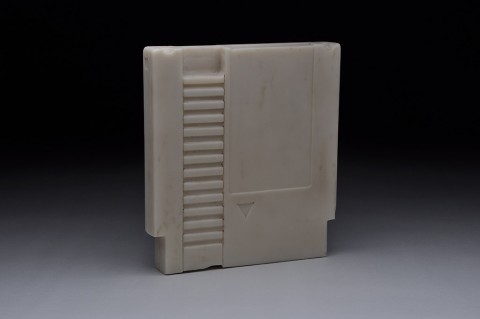 Many of the works in the show are kiln cast and cold worked glass. Kiln formed and cast glass is glass that has been fired in a kiln at a range of high temperatures from 1,000 °F – 1,650°F.
Most contemporary kiln forming methods involve stacking sheets or chunks of glass, often using different colors to create patterns or simple images.
The glass is then placed inside the electric kiln, held together using dams and molds, and then heated through a series of rapid changes in temperature and soaks (holding the temperature at a specific point) until the separate pieces begin to bond together.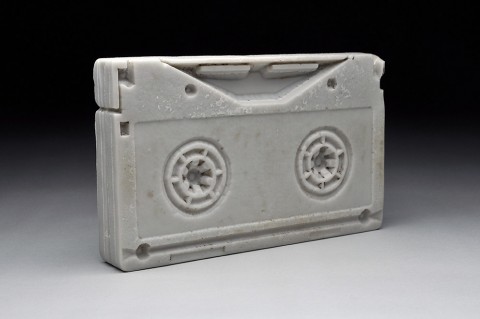 The longer the kiln is held at the maximum temperature, the more thoroughly the glass pieces will fuse. Once the desired effect has been achieved, the kiln temperature will be brought down quickly to the hardening point of the glass. The glass is then allowed to cool slowly.
Jennifer Crescuillo is an internationally exhibited artist living and working in Silver Point, Tennessee. She received a Bachelors of Fine Art at Bowling Green State University, and then continued her research at Southern Illinois University Carbondale where she received her Masters of Fine Art in glass in 2010.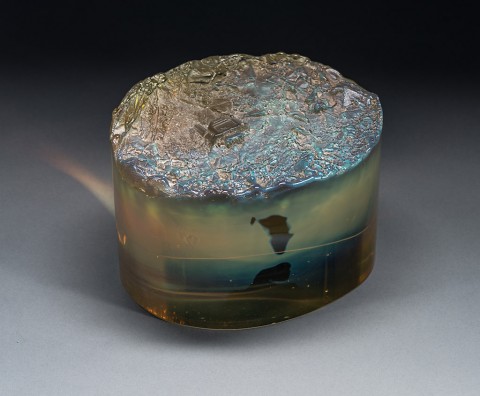 Jennifer has been featured in New Glass Review 34 and 36, and she was granted a fellowship at Wheaton Arts at The Creative Glass Center of America in 2014. Jennifer has also worked and taught in many glass studios around the United States such as Pilchuck Glass School, Urban Glass, and the Studio of The Corning Museum of Glass, Pittsburgh Glass Center, and the Appalachian Center for Craft.
Mergings: A Visual Exploration will be on exhibit through February 28th. Located at the corner of Second and Commerce Streets, the Customs House Museum is the second largest general museum in Tennessee.
For more information on above event contact Terri Jordan, Exhibits Curator, at 931.648.5780 or terri@customshousemuseum.org
About the Customs House Museum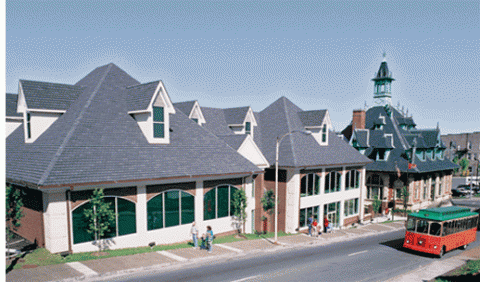 Located in the heart of historic downtown Clarksville, Tennessee, the Customs House Museum and Cultural Center is the State's second largest general museum. The original portion of the building was constructed in 1898 as a U.S. Post Office and Customs House for the flourishing tobacco trade. Incorporating a number of architectural styles, the original structure is one of the most photographed buildings in the region.
With over 35,000 square feet of the region's best hands-on activities and special events…people of all ages agree – the Customs House Museum is well worth the stop!
The Explorer's Gallery is packed with fun, learning and fantasy in Aunt Alice's Attic, McGregor's Market and kitchen, and of course – the Bubble Cave! Finally, get "all aboard" to see our fantastic model trains. Our volunteer engineers "ride the rails" every Sunday afternoon from 1:00pm to 4:00pm.
Regular museum hours are 10:00am to 5:00pm Tuesday through Saturday, and 1:00pm to 5:00pm on Sundays. Adult admission is $7.00, Senior Citizens and College ID $5.00, Ages 6 to 18 $3.00, and under six years and Museum members are free.
The Customs House Museum is located at 200 South Second Street. For more information, call 931.648.5780 or visit their website at www.customshousemuseum.org