Clarksville, TN – The Roxy Regional Theatre is so appreciated those of you who came out to their "Spring Break Special" discounted matinee last Thursday that they are opening up to the public their final performance of Booth Tarkington's "The Magnificent Ambersons" this Wednesday, April 6th at 9:15am.
Admission is $10.00 (cash or check only) and will only be available at the door on a first-come, first-served basis.
Tickets go on sale Wednesday at 8:45am, and seating for this performance is general admission.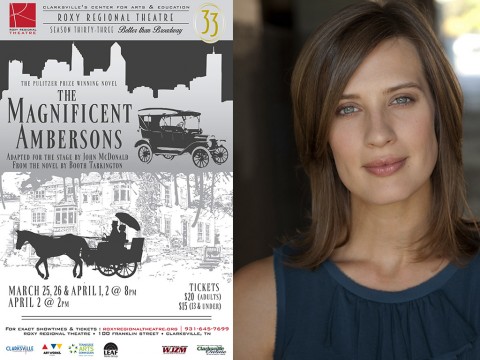 The first hour of downtown parking is free, and the show runs approximately 1.5 hours — so you should be good to put a couple hours' worth in the meter.
Please do not park in the city lot behind the theatre, as these spaces are reserved for monthly permit holders.
So if you missed our earlier performances of John McDonald's world premiere stage adaptation, or if you loved it so much you want to see it again, this is your final chance!
The Roxy Regional Theatre is located at 100 Franklin Street in Clarksville, TN.