Clarksville, TN – The National Weather Service (NWS) in Nashville reports partly cloudy skies with highs in the 70s for the Rivers and Spires Festival being held this weekend, April 14th-16th in Downtown Clarksville.
It will be beautiful weather for this three day festival with over 100 entertainers performing.
On Thursday, it will be partly sunny with a high of 70°F and the low expected to reach 48°F.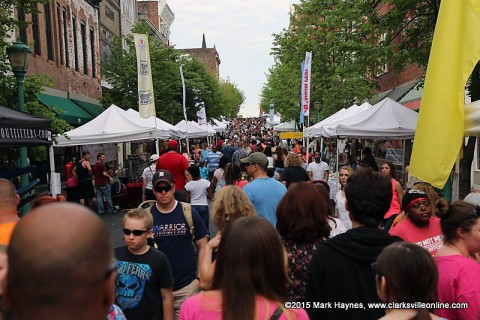 Mostly sunny skies are forecasted for Friday. The high will be around 73°F and a low of 49°F.
On Saturday, the main day of Rivers and Spires, the skies will be clear with a high of 75°F. The low Saturday night
Wednesday Night Through Friday: Partly cloudy. Lows in the upper 40s. Highs in the lower 70s.
Friday Night Through Sunday: Mostly clear. Lows around 50. Highs in the mid 70s. The weather will be perfect when Kellie Pickler hits the Public Square State at 7:30pm. The low for Saturday will be 49°F.
With the great weather were expecting this weekend, the 14th annual award-winning Rivers and Spires Festival is shaping up to be the best one yet.
So get ready and make sure to come to this year's Rivers and Spires event. There will be five stages of entertainment, children's activities, arts and crafts, car shows, military exhibits, shopping and so much more this is truly an event for the whole family
Hours this year are: April 14th and 15th from 5:00pm-10:00pm and April 16th from 10:00am–9:00pm. The Family Fun Zone Hours: Friday, April 15th from 5:00pm-8:00pm and Saturday, April 16th from 10:00am–8:00pm. Toddler Town Hours: Friday, April 15th from 5:00pm-7:00pm and Saturday, April 16th from 10:00am–7:00pm.
For more information about the 2016 Festival, please visit www.riversandspires.com