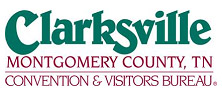 Clarksville, TN – For horseshoe pitching enthusiasts, the 2016 HP Pro Tour Open Horseshoe Tournament will be making its way to Montgomery County's Civitan Park May 21st-22nd.
The HP Pro Tour is a series of horseshoe pitching tournaments where competitors try to get as many ringers as possible and walk away with big cash prizes.
Approximately 60 pitchers from across the Southeast will make their way to Clarksville to take part in the competition.
Entrants will represent multiple divisions, from amateurs to professionals. What makes the HP Pro Tour different from other tournaments is that it doesn't adhere to standard, regular horseshoe scoring. Typically, horseshoes that lean against the stake or land the closest are scored, but on the HP Pro Tour, only ringers count. Close isn't good enough to win this competition!
The 2016 tournament series kicked off in Newberry, SC in April and will finish in December in Utah. Each tour stop is fast-paced as there are several players competing in a short amount of time. Competitors will play a series of multiple games to determine who the best horseshoe pitcher is in the first round. The second round serves as the elimination round and the finals are match play brackets.
The HP Pro Tour was the creation of several horseshoe enthusiasts in 2009 after their sport grew in popularity.  The staff of the HP Pro Tour are also pros themselves, making this event for professionals, by professionals. More and more people participate as the years go by which has resulted in winners of each Pro Tour stop winning prize money and advancing into the finals.
The upcoming competition at Civitan Park will include accomplished pitchers as well as many new competitors. Many of the highest ranked pitchers in the country will be traveling to Clarksville to pitch in this sanctioned tournament.
"Clarksville-Montgomery County is a great place to host a sporting event including the HP Pro Tour. Many people travel for sporting events as their vacation. With the combination of venues, hotels, restaurants and shopping, it makes Clarksville an ideal location," said Theresa Harrington, Executive Director of Clarksville-Montgomery County Convention & Visitors Bureau.
Competition will begin at 10:00am on Saturday, May 21st and then again at 10:00am on Sunday, May 22nd. Admission is free and spectators are encouraged to come out and watch all levels of competition. The horseshoe arena is located behind the ballfields at Civitan Park.
To learn more, visit www.thehorseshoetour.com