Clarksville, TN – Held the first Saturday of June each year, Flying High is an evening celebrating artists and the works of art of the region. Flying High is Customs House Museum's preeminent fundraiser of the year, supporting educational and exhibit programming of the Museum.
This year's event will be held at the Wilma Rudolph Event Center on Saturday, June 4th with a theme of An Evening in Paris.
The evening starts at 5:00pm with a silent auction. Dinner is at 7:00pm, followed by the live auction at 8:30pm and music and dancing following.
The Museum Guild, a volunteer body that focuses on raising funds for the museum with various fundraising events, is instrumental in the vision and execution of Flying High; this year's Flying High is chaired by Dee Ann Colburn and Elana Stubbs.
"This year's theme is inspired by Parisian gardens and strolls through the streets of Paris. Known as both the 'City of Art' and 'City of Love', Paris is a global center for art, fashion, and culture," says chair Dee Ann Colburn. "Flying High has always been a signature event that showcases the love of art, culture, and community. Our silent and live auction items will feature art from local artists, as well as a trip to Paris, France. You will be sure to fall in love with our Signature Piece courtesy of Frank Lott."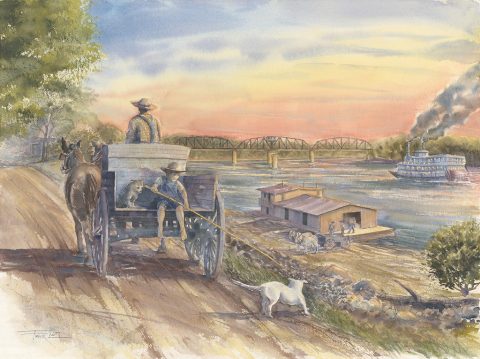 2016's signature art has been created exclusively for this event by Mr. Frank Lott, entitled "River Days with Pa and the Pups". "Clarksville's history is forever linked to the Cumberland River… always has been and always will be," Frank Lott says of his watercolor piece. "The decades of the late 1800s represented the 'coming of age' of Clarksville as a thriving, robust and "modern" town. And river commerce was the heartbeat that fueled it. This was also a time when, just like other river towns, Clarksville had its own Tom Sawyers and Huck Finns, riverboats, railroads and dreamers who imagined far-off adventures. Daily life moved at slower pace and goin' fishin' meant spending a lazy afternoon on the riverbank with Pa and the pups, then heading for home about sundown. I am always intrigued by our local history and enjoy creating scenes from Clarksville's past."
Many local businesses and patrons of the museum generously sponsor tables, as well as donate goods and services for the silent and live auctions. Attendees can also bid on a sampling of the region's artistic richness, as each year a different group of artists are approached and agree to donate their work to support the museum's cause.
Tickets to this event are $125.00 for Museum members, and $175.00 for non-members. To purchase ticket(s), please contact Colin McAlexander at 931.648.5780 or purchase online at https://flying-high-2016.eventbrite.com
About the Customs House Museum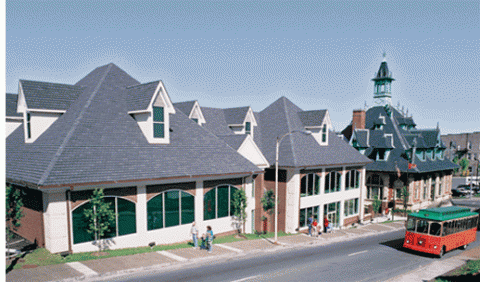 Located in the heart of historic downtown Clarksville, Tennessee, the Customs House Museum and Cultural Center is the State's second largest general museum. The original portion of the building was constructed in 1898 as a U.S. Post Office and Customs House for the flourishing tobacco trade. Incorporating a number of architectural styles, the original structure is one of the most photographed buildings in the region.
With over 35,000 square feet of the region's best hands-on activities and special events…people of all ages agree – the Customs House Museum is well worth the stop!
The Explorer's Gallery is packed with fun, learning and fantasy in Aunt Alice's Attic, McGregor's Market and kitchen, and of course – the Bubble Cave! Finally, get "all aboard" to see our fantastic model trains. Our volunteer engineers "ride the rails" every Sunday afternoon from 1:00pm to 4:00pm.
Regular museum hours are 10:00am to 5:00pm Tuesday through Saturday, and 1:00pm to 5:00pm on Sundays. Adult admission is $7.00, Senior Citizens and College ID $5.00, Ages 6 to 18 $3.00, and under six years and Museum members are free.
The Customs House Museum is located at 200 South Second Street. For more information, call 931.648.5780 or visit their website at www.customshousemuseum.org