APSU Sports Information

Clarksville, TN – Brittney Covington came through in the clutch with a match-clinching win as the Austin Peay State University women's tennis team defeated Lindsey Wilson 4-3 Saturday afternoon at the APSU Indoor Tennis Courts.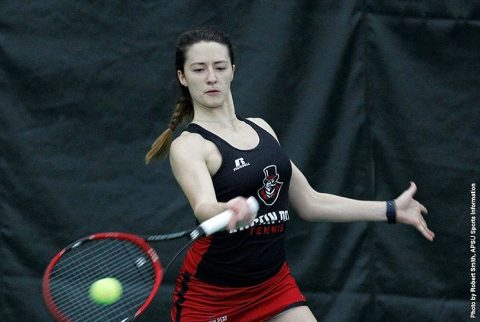 With the match on the line and tied at three, Covington delivered a back-and-forth 6-4, 7-5 win in her No. 5 singles match over Jovana Peric to give the Govs the victory.
The Govs picked up the doubles point behind a pair of wins at No. 1 doubles and No. 2 doubles. In the No. 1 match, twins Claudia Yanes Garcia and Lidia Yanes Garcia defeated Natalia Kattah and Maria Prados Cid, 7-6(3), while Ana Albertson and Helena Kuppig defeated Fiona Curty and Minja Gligic 6-4.
LWC evened the match at one with a win at No. 4 singles before Lidia Yanes Garcia gave the Govs a 2-1 lead with a 6-4, 6-1 win in her No. 1 singles match. Lindsey Wilson picked up a win at No. 4 singles, but APSU again answer this time with Claudia Yanes Garcia earning a 6-2, 6-3 win in her No. 2 singles match to take a 3-2 lead in the match.
Lindsey Wilson tied the match at three with a win at No. 6 singles to set up for Covington's heroics.
Austin Peay will return to action Friday, March 3rd on the road at Western Kentucky for its next match.