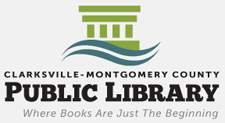 Montgomery County, TN – The Clarksville-Montgomery County Public Library's annual summer reading program will kick off June 12th with a lineup of events and resources designed to encourage children, teens and adults to exercise their mind by reading through the summer vacation.
The theme of this year's program is "Build a Better World." Patrons are invited to try something new this summer: at home, in the community, throughout the country, and around the globe. Read a new book, try a new craft, meet new people, and learn about new places.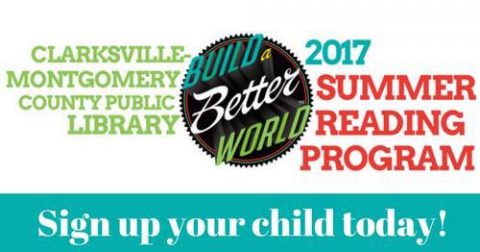 "When children are not participating in learning activities during the summer they experience a learning loss," said children's librarian Jean Nichols. That learning loss is commonly referred to as the summer slide.
"By participating in a Summer Reading program, this loss can be halted," Nichols said. "Summer Reading provides a fun and entertaining learning atmosphere that promotes reading."
Children who are exposed to books are more likely to read books. When they read books they benefit from a higher vocabulary, fluency and comprehension skills. Young children who are read to, also benefit from print awareness, phonemic awareness and letter name, sound and shape awareness. They are ready to learn when they reach kindergarten.
The Clarksville-Montgomery County Public Library designs the Summer Reading program as a part of its mission to champion learning and reading, ignite imaginations, and deliver access to information and ideas. To register for Summer Reading, just visit www.mcgtn.org/library and click on the banner. Reading logs can be picked up at the library beginning June 12th.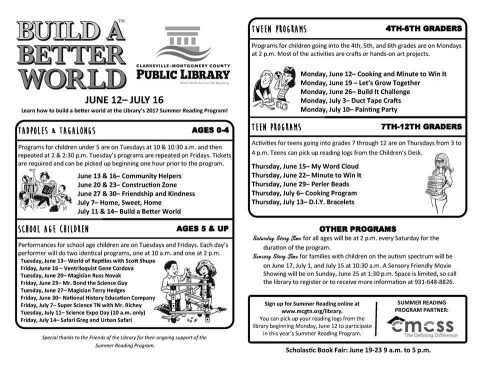 The program is broken up into five age-groups: "Tadpoles and Tagalongs" for babies to four years old, "School Age" for ages five and up, "Tweens" for fourth- through sixth-graders, "Teens" for seventh- through 12th-graders and "Adults" for adult programming. The complete schedule can be found on the library's website or Facebook page.

The main Summer Reading program, for school age children, will be on Tuesdays and Fridays with identical programs presented at 10:00am and 2:00pm. Each day will feature a unique performer, like Magician Russ Novak on Tuesday, June 20th, or Super Science Tennessee with Mr. Richey on Friday, July 7th.

Meanwhile, Tadpoles and Tagalongs will have programs on Tuesdays and Fridays at 10:00am and 10:30am, which will be repeated at 2:00pm and 2:30pm. Tickets for these programs are required and can be picked up beginning one hour before it the program begins.

Tween programs will be on Mondays at 2:00pm, featuring activities like Cooking and Minute to Win It on June 12th, or painting party on July 10th. Teens will meet on Thursdays from 3:00pm to 4:00pm, beginning with My Word Cloud on June 15th and closing out with D.I.Y. bracelets on July 13th.

Also included in the Summer Reading program are the Saturday Story Times at 2:00pm every Saturday for the duration of the program, and Sensory Story Time, which is designed for children on the autism spectrum, at 10:30am on June 17th, July 1st, and July 15th.

The library will also be offering a Sensory Friendly Movie Showing of Moana on June 25th at 1:30pm. There is limited space available for Sensory Story Time, so parents should call the library to reserve a spot at 931.648.8826.

A Scholastic Book Fair will also take place at the library on June 19th to 23rd from 9:00am to 5:00pm.
About the Clarksville-Montgomery County Public Library
The Clarksville-Montgomery County Public Library champions learning and reading, ignites imaginations, and delivers access to information and ideas. Learn more at www.mcgtn.org/library
The library is located at 230 Pageant Lane, Suite 501, Clarksville, TN.
Sections
Events
Topics
Clarksville TN, Clarksville-Montgomery County Public Library, Jean Nichols, Montgomery County, Pageant Lane, Summer Reading Program