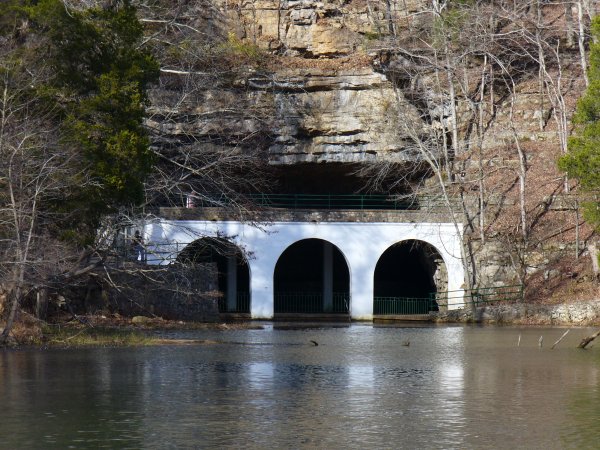 Clarksville, TN – On Saturday, July 29th, 2017, the Friends of Dunbar Cave held their annual Cooling at the Cave event at Dunbar Cave State Park from 3:00pm until 5:00pm. Cooling at the Cave is a family event. This year's music was provided by Cumberland Winds Jazz Project, an 18-piece ensemble that was perfect for the venue.
Cooling at the Cave is a celebration of the culture that was around the cave that Roy Acuff brought to the area.
Just over 300 people attended the event. Couples, families with small children, people with their well-behaved dogs, and jazz lovers of all ages came out to the community event. With songs like "String of Pearls," Tuxedo Junction," "Stardust," and other favorites, Cumberland Winds enchanted the on-lookers with their finesse and pleasing harmonies.
There were home baked goods available along with drinks. Donations were accepted.
"The funds raised goes to support the Friends of Dunbar Cave. Which in turn supports the Dunbar Cave State Natural area. Any effort that they have, we monetarily and volunteer to support their organization," said Rob Sanders, Friends of Dunbar Cave President.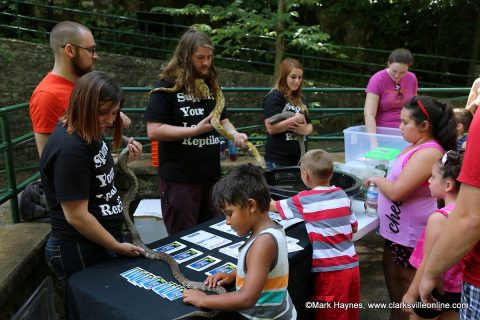 There was a display of all types of snakes and other creatures provided by Clarksville Reef & Reptiles. Some of the creatures on display were a green anaconda, reticulated python, brooks king snake, Savannah monitor, bearded dragon, tiger salamander, smooth-sided toad, rose hair tarantula, common snapping turtle, and Madagascar hissing cockroaches.
"We are showing people some of the reptiles and stuff that we have in the shop. This is a good way to let people encounter something that they may have never seen before or been able to be around," said Parker Davis with Clarksville Reef & Reptiles.
"I love being here and I am enjoying myself. I am glad I came out to see so many people and listen to the great band. I am just glad to be here," stated Beth Braswell. "I think this event is wonderful. I really do. I think it is a nice thing. If they have anymore I plan on coming."
"We want to thank everyone for supporting us and their local park. This area is so special to our community. We thank everyone for coming out," stated Sanders.
Make your plans to attend this free event next year because it's a great afternoon of fun and great jazz. You won't be disappointed!
For more information about the Cumberland Wind Jazz Project, visit their www.cumberlandwinds.org/index.php?c=jazz
For more about Dunbar Cave State Park, visit their website at www.tnstateparks.com/parks/about/dunbar-cave
To learn more about Clarksville Reef & Reptiles, go to www.clarksvillereefreptiles.com
Photo Gallery
About the Friends of Dunbar Cave
Friends of Dunbar Cave Inc. is an independent, non-profit corporation committed to protecting and preserving the natural and cultural resources of Dunbar Cave State Natural Area for this generation and generations to come. Please join Friends of Dunbar Cave in Supporting and protecting Dunbar Cave State Natural Area.
Members receive our newsletter, are invited to our monthly meetings held on the second Thursday of the month at 6:00pm and are invited to participate in special park projects and activities. As a member you will help us preserve the wilderness and recreation that Dunbar Cave State Natural Area represents.
For more information about the Friends of Dunbar Cave, visit their website at https://sites.google.com/site/friendsdunbar/