Clarksville, TN – Clarksville's Customs House Museum held an opening reception March 8th to introduce five new exhibits that range from impressionistic figurative paintings, watercolors, and photography to Stories of Clarksville, and a celebration of Women in business.
On the main floor, in the Leaf Chronicle Lobby until April 29th, Celebrating Women in Business uses objects and images from the museum's permanent collection to celebrate local businesses throughout Clarksville's history that have been owned or founded by women. Visitors will learn about the Barbara Louise Hospital, First Women's Bank, local beauty shops, and more.
In the Crouch Gallery until May 2nd, Kathleen Conover: Industrial Evolution, a collection of her stunning watercolor paintings.
"The most 'signature' element in my work is deep symbolism," Conover said. She received her MFA from Northern Michigan University, and did her graduate work in printmaking at Gonzaga University. The award-winning artist holds signature status in many organizations and has exhibited her paintings in the United States and abroad.
In the Peg Harvill Gallery until April 1st, Julia Martin: Hipnagogic, a series that presents impressionistic figurative paintings in a world where the real and the imagined appear one and the same. Julia Martin is a Nashville artist and gallery owner who says she paints "the surreal moments just before sleep, when lucid dreaming and hallucinations often occur."
Featured on the lower level, in the Josten's Gallery until May 27th, Seasons: Frank Majors. The Charleston native's work in this show reflects the seasons of life. In 'Seasons' you will see contemplative works that compel the viewer to stand in the place of the photographer and imagine the feelings that are inspired by an object or a location, Like bicycles that sit on a second-story balcony, overlooking a bustling New Orleans street. Or. A beautiful rose, at the peak of its short life, that playfully climbs on a rickety trellis that's slowly losing its own battle with time.
In Memory Lane until September 30th, Our Town (Stories of Clarksville). An exhibition of regional stories featuring photographs and artifacts from Customs House collections, including the jail, Trinity Episcopal Church, the court house, Capitol Theater, and more.
These are just the latest exhibits to go on display at the Customs House Museum.
Photo Gallery
About the Customs House Museum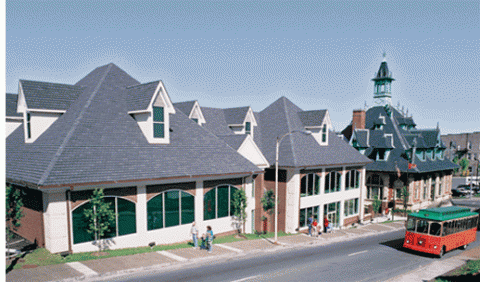 Located in the heart of historic downtown Clarksville, Tennessee, the Customs House Museum and Cultural Center is the State's second largest general museum. The original portion of the building was constructed in 1898 as a U.S. Post Office and Customs House for the flourishing tobacco trade. Incorporating a number of architectural styles, the original structure is one of the most photographed buildings in the region.
With over 35,000 square feet of the region's best hands-on activities and special events…people of all ages agree – the Customs House Museum is well worth the stop!
The Explorer's Gallery is packed with fun, learning and fantasy in Aunt Alice's Attic, McGregor's Market and kitchen, and of course – the Bubble Cave! Finally, get "all aboard" to see our fantastic model trains. Our volunteer engineers "ride the rails" every Sunday afternoon from 1:00pm to 4:00pm.
Regular museum hours are 10:00am to 5:00pm Tuesday through Saturday, and 1:00pm to 5:00pm on Sundays. Adult admission is $7.00, Senior Citizens and College ID $5.00, Ages 6 to 18 $3.00, and under six years and Museum members are free.
The Customs House Museum is located at 200 South Second Street. For more information, call 931.648.5780 or visit their website at www.customshousemuseum.org