Austin Peay Sports Information
Clarksville, TN – Austin Peay State University beach volleyball sweeps their four matches in the Ohio Valley Challenge.
Coming off two wins in day one of their inaugural home tournament, the Govs looked to grab another victory against Lincoln Memorial in their mid-morning matchup.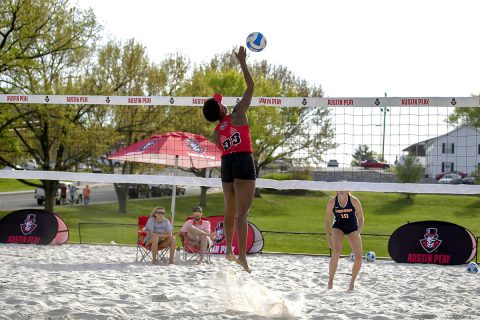 After the number one and number two pairings dropped points to the Railsplitters, the number three, four and five pairings grabbed deciding points to keep the Govs winning streak alive.
Jenna Panning and Haley Turner won a grueling three-setter to give the Govs their first point. Then a pair of two-set victories from Ashley Slay and Cori Theiss, as well as, Chloe Stitt and Kaylee Taff gave the Govs a narrow 3-2 victory over Lincoln Memorial.
Austin Peay honored their lone senior, Ashley Slay, prior to the final match of the day. Slay and her partner Cori Theiss finished the day a perfect 4-0 on the weekend, as Slay closed out her final season at Austin Peay in dominant fashion.
Panning and Turner opened the match blasting past their Eagle opponents, while Stitt and Taff also secured a point for the Govs in the early minutes of the final match of the Ohio Valley Challenge. Slay and Theiss showed off their power at the net grabbing a two-set victory in front an energetic crowd.
Ginny Gerig and Cecily Gable, as well as, Brooke Moore and Nina Korfhage each grabbed three-set victories to close out the Governors' sweep of Carson-Newman. Austin Peay ends their season on a four-match winning streak, going a perfect 4-0 in their first tournament at the Govs Beach Volleyball Complex.
Box Score
Austin Peay 3, Lincoln Memorial 2
1. Cash/Nartker (LMU) def. Gerig/Gable (APSU) 21-13, 21-15
2. Lake/Ged (LMU) def. Moore/Darland (APSU) 15-21, 21-10, 15-13
3. Panning/Turner (APSU) def. Storms/Whiteaker (LMU) 14-21, 21-19, 19-17
4. Slay/Theiss (APSU) def. Stachura/Wesemann (LMU) 21-19, 21-16
5. Stitt/Taff (APSU) def. Wachob/Gil (LMU) 21-8, 15-21, 15-6
Austin Peay 5, Carson-Newman 0
1. Gerig/Gable (APSU) def. Coulter/Hughes (CNU) 21-19, 16-21, 15-13
2. Moore/Korfhage (APSU) def. Sauter/Fazelnia (CNU) 21-15, 12-21, 15-10
3. Panning/Turner (APSU) def. Struewing/Depetro (CNU) 21-10, 21-8
4. Slay/Theiss (APSU) def. Seymour/Harlan (CNU) 21-9, 21-13
5. Stitt/Taff (APSU) def. Cook/Headley (CNU) 21-12, 21-4