"Planters Bank Presents…" Film Series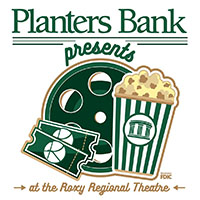 Clarksville, TN – The "Planters Bank Presents…" film series to show the documentary "The Last First Comic" this Sunday, April 29th, 2018 at the Roxy Regional Theatre at 4:00pm.
At age 100, comic Irving Benson stands alone as the oldest link to a uniquely American art form — Burlesque. Irv headlines a cast of fellow veteran Burlesque and Vaudeville performers.
Together with a team of theatre historians, they take us into the colorful world of the Burlesque show and uncover the roots of American Comedy. Filmed on location at NYC's Palace Theatre, this award-winning documentary spotlights the final film appearance of legendary straight man Ed McMahon and showcases hilarious clips from Irv's appearances on the Tonight Show with Johnny Carson.
Admission to each film in the "Planters Bank Presents…" series is $5.00 (cash or check only). Tickets are on sale now at the Roxy Regional Theatre box office. Any remaining tickets will be available at the door one hour prior to showtime.
Normal box office hours are 9:00am-2:00pm, Monday through Friday.
At the concession stand, enjoy a bag of popcorn and a bottled water for $5.00 (sold separately for $4.00 and $2.00, respectively) and assorted candy for $2.00.
This film series at the Roxy Regional Theatre is made possible by the generous support of Planters Bank and the Clarksville-Montgomery County Arts & Heritage Development Council.
Presented by special arrangement with This 'N That Films: www.thisnthatfilms.net
The Roxy Regional Theatre is located at 100 Franklin Street in Clarksville, TN.
Sections
Events
Topics
Clarksville Montgomery County Arts and Heritage Development Council, Clarksville TN, Documentary, Ed McMahon, Franklin Street, Johnny Carson, Planters Bank, Planters Bank Presents, Roxy Regional Theatre, The Last First Comic, The Tonight Show, This 'N That Films, Tonight Show