APSU Sports Information
Clarksville, TN – A game that started one day and ended on another and included a pair of milestones for Austin Peay State University's baseball team was spoiled late by an upstart Eastern Illinois squad, which rallied to down their hosts 13-11 in the first game of an Ohio Valley Conference series, Thursday night, at Raymond C. Hand Park.
Austin Peay (30-23, 17-11 OVC) jumped out to a big lead thanks to a six-run second inning.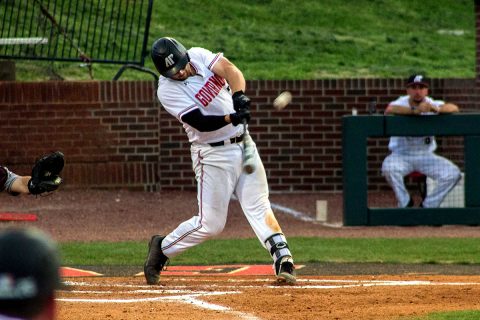 It was in that second frame that the first of the Govs two milestones arose as first baseman Parker Phillips hit his season's 19th home run to put a bow on the inning's scoring.
Eastern Illinois (21-31, 10-18 OVC) would respond with two runs on three doubles in the third inning. However, the Governors would battle right back as center fielder Imani Willis hit a three-run home run in the fourth to give the Govs a 9-2 lead.
The teams traded runs again in the fifth inning. Eastern Illinois putting forth the three-run frame on second baseman Jimmy Govern's three-run home run. Austin Peay would get two back in its half of the inning, scoring a run on a wild pitch before third baseman Garrett Kueber hit a solo home run as the Govs held an 11-5 lead after five innings.
The Panthers would gain the lead in a pivotal seventh inning that saw 12 batters reach the plate against four different Governors pitchers. First baseman Hunter Morris delivered the key base hit, as the Governors defense could not get an out on his ball hit up the middle, but not out of the infield, and two runs scored, including the go-ahead run.
Governors' starter Michael Costanzo, who entered the game with 92 strikeouts this season, notched his 100th career strikeout to end the fifth inning. However, he allowed five runs on five hits and two walks in his 5.1-inning outing. Reliever Greg Leban (1-2), the third of the Govs relievers in the seventh inning, suffered the loss after allowing one run on two walks.
Eastern Illinois reliever Hunter Clark (1-0) picked up the win after striking out the Govs in order in the sixth. Closer Michael Starcevich notched his season's ninth save after striking out six of the final 12 batters he faced.
Phillips led Austin Peay's offense with a 3-for-5, two RBI outing that also included a double along with his home run. Giovannelli and Willis also had three RBI each.
Govern paced the Panthers offense with a 4-for-5, five RBI outing that included a RBI double and a RBI walk in addition to his home run.
Austin Peay and Eastern Illinois are scheduled to continue their three-game set with a 6:00pm, Friday contest at Raymond C. Hand Park.