Austin Peay State University (APSU)

Clarksville, TN – Madalyn Mercer, Ushma Patel, Joshua Schlensker and Grayson Phillips recently took control of a $300,000 mechatronics training system unpackaged and set up this summer at Austin Peay State University.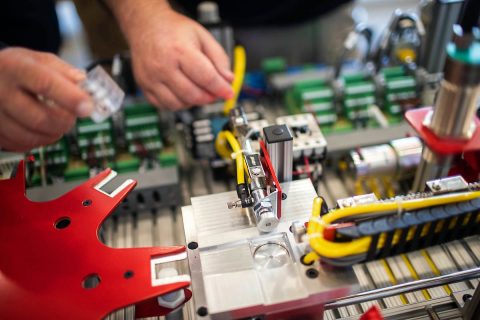 The state-of-the-art equipment with a Fanuc robot comes from Amatrol's 870 series of mechatronic learning systems and will be an integral step in the students' lives as they pursue bachelor's degrees in mechatronics engineering technology.
The eight-module system also is integral in Austin Peay's goal to launch a Siemens-backed mechatronics program with its associate and bachelor's degrees in fall 2019.
"This is a must-have to teach mechatronics," Matthew Anderson, interim chair of the APSU Department of Engineering Technology, said. "This sort of equipment has become pretty much industry standard, and it will give students a feel for what kind of conditions they'll encounter when they begin their career."
Learning Mechatronics
The new mechatronics system integrates several components manufacturing disciplines: mechanical, electrical, electronics, fluid power and programming, said Dr. Chin-Zue Chen, who teaches in the Engineering Technology Department.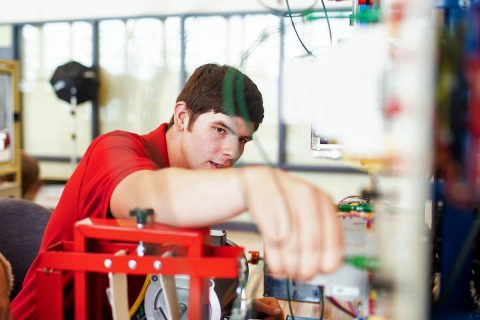 "In the past, the mechanical was the mechanical, and the electrical was the electrical," he said. "But in today's industry, if you want to be a more advanced technician or engineer, you've got to know both.
"If our students have knowledge in the electrical and mechanical, it will be easier to understand the system, easier to operate the system, easier to maintain the system," Chen said. "Mechatronics offers essential knowledge of these parts."
What Do Students Think?
Joshua Schlensker, an Austin Peay sophomore from Clarksville, described the new mechatronics system as a model-sized assembly line.
"When I was doing paperwork to get into college, mechatronics sounded like the future, newer than electrical or mechanical engineering," Schlensker said. "I can see the equipment teaching me how each part works and how multiple parts work together."
Added sophomore and Cheatham County native Grayson Phillips: "This system will really help me train for my career because this is what they use in the field."
The future is key, of course, for all college students. But Madalyn Mercer, a sophomore from Humphreys County, has one day in mind.
"Whenever I go for an interview and they ask me what this mechatronics equipment is, I'll know the answer, and if they ask if I know how to use it, I'll say, 'Yes, I do. They taught me at Austin Peay,'" she said.
Austin Peay State University and The Region
Dr. Russ Longhurst, associate professor in the APSU Department of Physics, Engineering and Astronomy, said the equipment and the Siemens program will help Austin Peay students land jobs.
"I was just out to Hankook this summer and took a tour of their training facilities as well as their plant, and everything they have in there, which is a modern manufacturing facility, is all high-tech automation," he said. "You see robotics. You see equipment that when you walk up, you hit a panel, enter in some data, and it takes off running on its own."
Austin Peay will start integrating the mechatronics equipment into classes as early as the spring semester, Anderson said.
The funding for the equipment and Siemens training (about $60,000) comes from a U.S. Department of Defense Office of Economic Adjustment grant awarded to the Pennyrile Area Development District to administer Fort Campbell Strong, an initiative to support the economic health of counties near the Army post.
Austin Peay is on track to be the second university in North America to offer the Siemens certification with a bachelor's degree, Anderson said.
"I think once the program gets off the ground, it will draw a large enrollment," he added.
Want To Learn More?
Learn more about Austin Peay's efforts to align what we teach with industry needs at www.apsu.edu/industry
Learn more about the mechatronics equipment at www.tech-labs.com/products/amatrol-mechatronics-learning-system
Learn more about the Siemens Mechatronic Systems Certification Program at www.sitrain-learning.siemens.com/DE/en/content/SMSCP-Siemens-Mechatronic-System-Certification-Program.do