Austin Peay State University Sports Information
Clarksville, TN – The Red Team won Austin Peay State University (APSU) baseball's Red-Black World Series after defeating the Black Squad, 13-7, to clinch a 2-0 series lead at Raymond C. Hand Park, Tuesday, October 30th.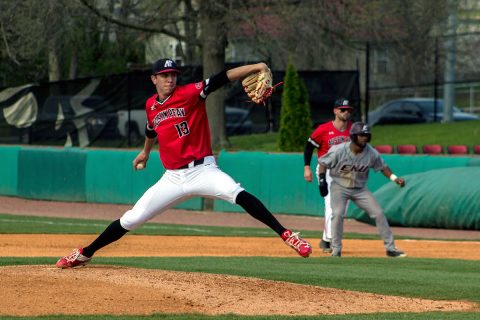 The Red Team defeated the Black Squad, 9-1, on Monday to take the first victory in the series.
Michael Carey fueled the offensive output for the Red Team, going 3-for-4 with two doubles and a triple, while driving in five runs.
Black Squad starter Jacques Pucheu gave up a single in the first inning, but otherwise looked stellar while striking out the side to move through the bottom of the frame. But the Red Team found a groove in the second, as Andrew Flaherty drove in Griffin Rivers on a double, and Carey drove in the first two of his runs on a double to right field.
The Red Team added two more runs in the bottom of the third, hitting three straight two-out doubles, as Ryan Kouba and Carey each drove in one. Red added three more runs in the fourth to take a commanding 7-1 lead into the top of the fifth.
Tyler Thompson started on the bump for the Red Team, and moved through the first four innings of the game with efficiency, though he did allow a solo shot to Bobby Head in the third. Thompson struck out five, but after walking the leadoff man in the fifth, Greg Leban took the hill for the Red Team.
The Black Squad rallied in the Top of the fifth to cut the lead to 9-7, as four of the first five hitters walked, driving in a run. Alex Sala got the crowd on its collective feet when he drove a grand slam over the right-field fence. Three batters later, Matt Joslin singled to right field to plate Aaron Campbell, who walked and stole second base.
Cooper Davidson came into the game and pitched a three-up, three-down inning in the bottom of the fifth for the Black Squad, and Josh Rye matched that in the top of the sixth for the Red Team.
With just a two-run lead, the Red Team put together another four-run inning to put the game out of reach. Parker Phillips scored on a sacrifice fly by Rivers, and Flaherty drove in Brett Newberg on a single. None other than Carey capped off the scoring with a two-RBI triple to give the Red Team the final margin.
The Black Squad got men on the corners with two outs in the seventh, but Kouba slammed the door, striking out Joslin looking.
Red Team 13, Black Squad 7
——————————————–
Black Squad… 001 060 0 – 7 6 3 (0-2)
Red Team…… 042 304 . – 13 11 0 (2-0)
——————————————–
Pitchers: Black – Jacques PUCHEU; Drew HURST (3); Cooper DAVIDSON (5)
Red – Tyler THOMPSON; Greg LEBAN (5); Josh RYE (6); Ryan KOUBA (7)
Win – Tyler THOMPSON (1-0) Loss – Jacques PUCHEU (0-1) T-2:30
HR: Black – Bobby HEAD (1, 3rd inning, 0 on, 2 out); Alex SALA (1, 5th inning, 3 on, 1 out)
Weather: 77, Fair, Calm Winds