APSU Sports Information
Gulf Shores, AL – The Austin Peay State University (APSU) beach volleyball team fell to New Orleans in their second match at the March to May Invitational, 5-0, Saturday afternoon.
Jenna Panning and Haley Turner at the No. 2 pairing forced the Privateers' duo of Blessing Dunn and Brianna Vega into a three-set match.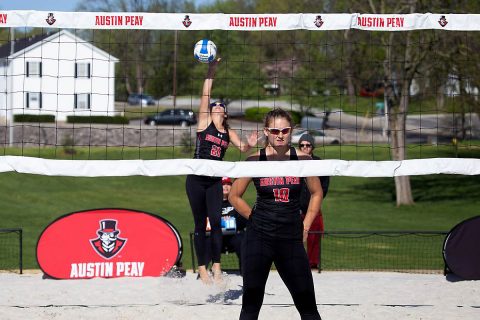 After dropping the first set, Panning and Turner took the second, 21-14, before ultimately coming up short in the decisive final set.
The Govs' No. 4 pairing of Chloe Stitt and Caroline Waite came out strong against Rhyan Rand and Madison Miller of New Orleans, forcing the first set into extra volleys before falling, 23-21.
The Governors wrap up the March to May Invitational, Sunday, with a pair of matches against Spring Hill at 9:00am and Georgia State at noon.
Be sure to follow the Govs on Twitter at @AustinPeayBVB for updates throughout the weekend at the March to May Invitational.
Box Score
Austin Peay 0, New Orleans 5
Court 1: Veronica Corcoran/Rachel Kuhn (NO) def. Ginny Gerig/Cori Theiss (AP): 21-10, 21-17
Court 2: Blessing Dunn/Brianna Vega (NO) def. Haley Turner/Jenna Panning (AP): 21-16, 14-21, 15-8
Court 3: Victoria Corcoran/Ally Carr (NO) def. Ciera Koons/Brooke Moore (AP): 21-15, 21-11
Court 4: Rhyan Rand/Madison Miller (NO) def. Caroline Waite/Chloe Stitt (AP): 23-21, 21-15
Court 5: Maxine Walsh/Alexa Spartz (NO) def. Lucy Randall/Karli Graham (AP): 21-15, 21-15