APSU Sports Information

Clarksville, TN – The Red and White Spring Game presented by Echo Power and hosted by the Austin Peay State University (APSU) football program is set for Saturday, April 6th, 2019 at Fortera Stadium, and will feature a football alumni reunion flag football game in the festivities.
Admission to the Spring Game is free and open to the public, and fans will be able to sit in the west (home) grandstands of Fortera Stadium.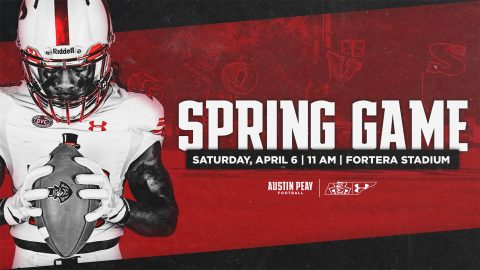 Fans will not be allowed onto the field until the conclusion of the game, at which point they can make their way to the turf for an informal meet-and-greet with the team with photo and autograph opportunities, weather permitting.
The day will start at 11 a.m. with the football alumni reunion flag football game, which will count as the first half of the spring game. The points scored by the Red alumni team will count toward the defense's score, while the White team's point will go toward the offense's score. It will feature a 20-minute running clock, stopping for change of possession.
The second half will consist of two 15-minute quarters as the offense takes on the defense. The offensive scoring will be standard, but the defense will have opportunities to score as well.
APSU Red and White Spring Game Scoring System
OFFENSE
6 points – touchdown
1 point – extra point kick
2 points – two-point conversion
3 points – field goal
DEFENSE
7 points – defensive touchdown
5 points – turnover forced
3 points – stop in the red zone (25-yard line)
3 points – three-and-out
2 points – safety
Gates to Fortera Stadium will open at 10:00am and fans can enter through Gates 1 or 2. Parking is free and open in Lot 6 to the west of the stadium. Tailgate Alley will open at 9:00am and space will be available on a first-come, first-served basis. Additionally, Fat Boys Tacos, Bench Clearing BBQ and Skyline Grill food trucks will be on site, beginning at 10:00am.
The first 1,000 fans in attendance will receive a free poster, courtesy of the APSU Bookstore, and the first 500 fans into Fortera Stadium will receive a free Austin Peay 2019 home football schedule koozie courtesy of Wendy's.
The APSU bookstore located on the concourse level of Fortera Stadium will be open, and Chick-Fil-A will be set up on the concourse with free samples. The Austin Peay dance team will have a face tattoo station for the kids also set up on the concourse.