Montgomery County, TN – The Clarksville-Montgomery County School System (CMCSS) has released the names of the 2019 Valedictorians and Salutatorians from each of our seven traditional high schools at the last two formal School Board meetings.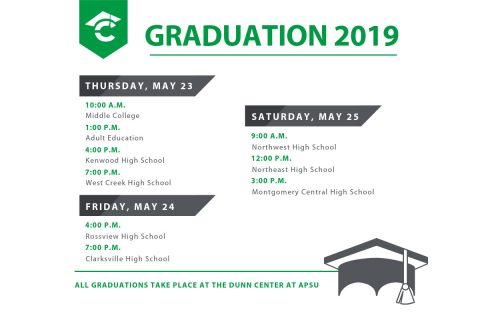 CMCSS is proud of all that these students have accomplished through their hard work, determination, and perseverance!
As a reminder, graduation ceremonies take place next week. All graduations will take place at the Austin Peay State University (APSU) Dunn Center.
The APSU Dunn Center is located at 320 Drane Street, Clarksville, TN.
If you cannot attend a graduation ceremony, we will be live streaming each graduation from our Focus CMCSS YouTube Channel at: https://www.youtube.com/user/FocusCMCSS/videos…
Clarksville High School
Valedictorian: Allison Crawford
Salutatorian: Miller Hadley
Kenwood High School
Valedictorian: Emma Kreuser
Salutatorian: Manuel Martinez
Montgomery Central High School
Valedictorian: Dameya Wisdom-Yarber
Salutatorian: Isaac VanWormer
Northeast High School
Valedictorian: Marissa Lott
Salutatorian: McKenzie Ward
Northwest High School
Valedictorian: Madeline Skau
Salutatorian: Kallista Tasker
Rossview High School
Valedictorian: Kichul Kange
Salutatorian: Adeline Elizabeth
West Creek High School
Valedictorian: Danya Rabahat
Salutatorian: Ana Cannon