Norman, OK – The Austin Peay State University (APSU) men's golf team had two student-athletes are among the record 540 NCAA student-athletes to earn 2018-19 Srixon/Cleveland Golf All-America Scholar honors, 266 of which came from Division I.
Rising seniors Michael Busse and Austin Lancaster are the first Governors since Erik Hedberg in 2017 to earn a coveted spot for their academic and athletic abilities.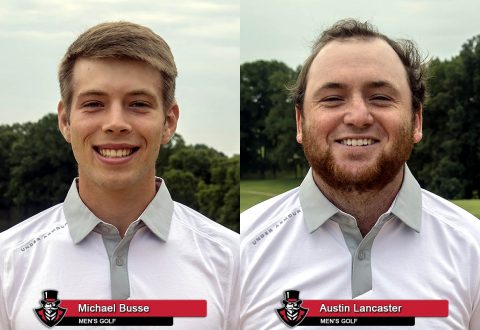 The duo are among 12 Ohio Valley Conference student-athletes to earn All-America Scholars recognition.
Busse and Lancaster were both integral parts of the 2018-19 campaign for the Govs. Busse appeared in 10 of Austin Peay's 11 tournaments, posting a 73.82 stroke average and four rounds in the 60s while earning a trio of top-10 finishes. Lancaster put together a 74.64 average in nine tournaments and two top-10s; the duo tied for 10th at the 2019 OVC Men's Golf Championships in Muscle Shoals, Alabama.
Off the course, both Busse and Lancaster have made multiple appearances on the Athletic Director's Honor Roll; both were featured members of the 2017-18 OVC Commissioner's Honor Roll, with the 2018-19 version set for release in August.
To be eligible for Srixon/Cleveland Golf All-America Scholar status an individual must be a junior or senior academically, compete in at least three full years at the collegiate level, participate in 50-percent of his team's competitive rounds, have a stroke-average under 76.0 in Division I, 78.0 in Division II, 78.0 in NAIA and 79.0 in Division III, and maintain a minimum cumulative career grade-point average of 3.2. A recipient must also be of high moral character and be in good standing at his college or university.