Evanston, IL – Austin Peay State University (APSU) volleyball outside hitter Brooke Moore had 31 kills over two matches as the Govs dropped its first two matches at the NU Under Armour Challenge, Friday.
The Governors fell to host Northwestern in four sets (17-25, 25-19, 17-25, 14-25) and Stephen F. Austin in three sets (19-25, 17-25, 12-25).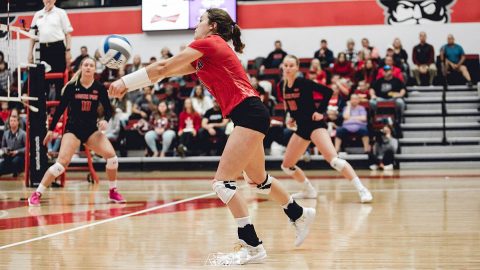 APSU Notes, Notables
Gerig Busse Reaches 1,500
With her 13 digs against Stephen F. Austin, libero Ginny Gerig Busse moved past 1,500 career digs, becoming the ninth Govs defender to reach the milestone, ending the day with 1,504 career digs.
Moore Powers UP
Moore opened the tournament with an impressive 18-kill performance against host Northwestern, posting a then-season best .326 attack percentage. We say "then" because the mark lasted just one match as she notched a .345 attack percentage against Stephen F. Austin with 13 kills to her credit.
Stott Adds 10-Kill Outing
Outside hitter Chloe Stitt joined forces with Moore to force Northwestern to four sets. Her 10-kill outing came with a season-best .346 attack percentage as she was charged just one error on 26 swings.
Govs Take Set From Wildcats, Again
During the opening weekend, the Governors battled Kansas State and claimed a Set 2 victory and nearly forced a fifth set. This weekend, it was another Wildcats-branded team the Govs faced in host Northwestern, and again they claimed Set 2. The Govs top two offensive performances also have been pieced together against Kansas State and Northwestern.
Quick Hits
APSU Against Northwestern
Aysha Hood scored a career-high six kills against the Wildcats, posting a .364 attack percentage.
Karli Graham also posted a season-best six kills against NU with a .267 attack percentage, adding three solo blocks and a service ace to her work in the match.
Kelsey Mead set a career high with 23 assists against the Wildcats, breaking her mark of 21 set against the Kansas State Wildcats last week.
APSU Against Stephen F. Austin
Moore's 13-kill performance was her third double-digit kill performance this season. She ends the day with the Govs top three hitting performances (as ranked by total kills).
Tegan Seyring made her second start this season and recorded five kills against SFA, one shy of her season-high set in a start against Kansas State.
Next Up For APSU Volleyball

APSU Volleyball closes its stay in Evanston with a 1:00pm (CT), Saturday contest against Texas Tech.