Clarksville, TN – CDE Lightband reports that 3,908 customers remained without power as of 7:45pm Tuesday, October 29th, 2019. Crews will be again working through the night restoring power.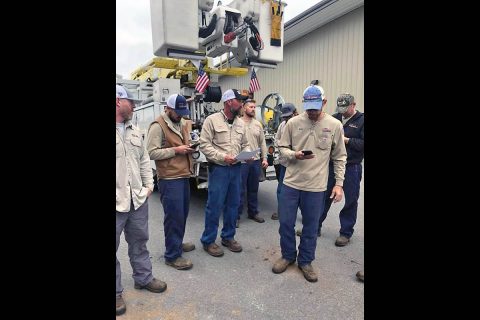 Crews are focusing on the following areas:
New Providence Boulevard, Chapel Street and Power Street.
Dover Road area, including Lealand Drive, Charlemagne Drive and Morrison Drive; Lafayette Road and Freestone Road.
Downer Drive, Hillsboro Road and Yorktown Road.
Preston Drive and Binks Drive
The storm with wind gusts up to 75 mph that came through the area on Saturday, October 26th caused major damage to the power system across Clarksville, initially leaving 25 circuits open and 32,228 customers without power. This included more than 30 downed or broken poles and countless downed trees or limbs, making access to lines and poles difficult.
With the power restoration process, CDE Lightband begins by accessing and repairing the substations, getting all circuits operational. Then the focus turns to the distribution system, or primary lines. From there, the tap lines that feed all the neighborhoods are examined and repaired.
Here are some important tips for customers:
Treat every downed power line like it's hot, or energized, and stay clear.
Customers with special medical needs requiring electricity should seek temporary, alternative arrangements.
Customers can report their outage online at www.cdelightband.com, call the office at 931.648.8151, or text CDE to 85700. Reporting on social media does not generate a ticket.
Contact home or rental insurance provider to seek replacement of spoiled food.
Extremely dangerous hazards such as sparks, fires or arcing should be reported to 911 immediately.
CDE Lightband's main goal is to serve its 70,000 metered customers with reliable electricity. Safety is always a top priority.