Clarksville, TN – The Clarksville Police Department says there was a whole lot of love given at the Pizza and Police event held at Caprigio's Pizza.
Clarksville Police visitors got Child ID kits, plastic badges, coloring books, crayons and got to climb in the patrol car and turn on the lights and sirens!
The event provided an opportunity for police to meet one-on-one with the public they interact with.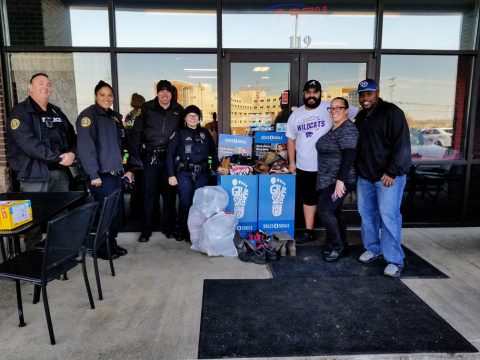 But, it also served as a fundraiser for Soles 4 Souls. Our community relations unit set a goal of collecting 100 pairs of shoes for donation to Soles 4 Souls. They hit 103 pairs and the donations are still coming in.
Our Clarksville community shined as usual. They made the Soles 4 Souls, Give Shoes, Give Love motto, a reality.
CPD appreciates Caprigio's Pizza for hosting and discounting their food for the event. Also, Middle Tennessee Pepsi was kind enough to donate 20 cases of Pepsi for our visitors to quench their thirst.
CPD appreciates the generous citizens of the Clarksville and continue to be thankful for the support law enforcement receives from the community.