Clarksville, TN – Austin Peay State University (APSU) men's tennis will host the Redbirds of Illinois State for a 2:00pm, Friday, January 31st, 2020 match at the Governors Tennis Center still searching for their first win of the spring season.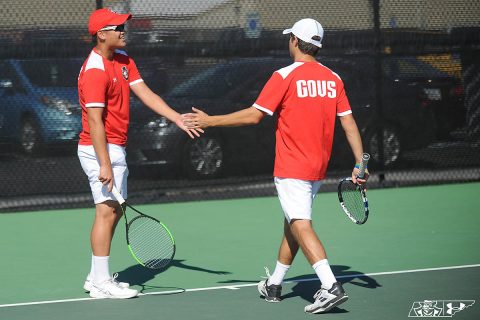 The Governors have been consistent with their lineup over the first four matches, with Christian Edison playing as the No. 1 all four times out.
Similarly, Anton Damberg and Julius Gold have been on the No. 2 and No. 3 lines for the Govs in all four matches this season.
In the No. 4 and No.5 singles spots, Jacob Lorino and Oliver Andersson have split time, with Andersson playing as the No. 4 in the last two matches. Finally, Thiago Nogueira was slotted as the Govs No. 6 for the first two matches of the season, but Hunter Sanders has manned that position ever since his return.
In doubles play, the Governors No. 1 and No. 2 pairings have yet to change this season. Edison and Lorino have been the No. 1 in all four matches, while Damberg and Gold have been the No. 2. Andersson has played in the No. 3 doubles pairing in all four matches, but Nogueira and Sanders have split time as his partner.
About the Illinois State Redbirds

Illinois State (4-3)
Last Meeting: This is the Governors first ever meeting with Illinois State.
The Redbirds got off to a slow start this season, falling to Northwestern, 6-1, and Wisconsin, 6-1, to start the year. Illinois State immediately bounced back, reeling off three-straight wins, including a 6-1 win over Eastern Illinois. The Redbirds split a home doubleheader last week, falling to Western Michigan, 5-2, before beating Praire State, 6-1, in their last outing.
Freshman Melker Isaakson has led the Redbirds this season, playing to a 7-0 record through the first two weeks of the season. Isaakson has also gone 3-1 in singles play, while playing with several different partners in the early part of the season.
Next Up For Austin Peay State University

The Austin Peay State University men's tennis team will be on the road again, when the Governors travel to Wright State for a 6:00pm, February 8th match against the Raiders at the South Regency Tennis Center.