Clarksville, TN – The Austin Peay State University (APSU) football team continued to add depth on both its offensive and defensive lines with three offensive linemen and two defensive lineman among the 10 signees announced during the spring National Signing Day.
The group of 10 joins the group of 10 athletes signed during the December recruiting window to give the Governors and head coach Mark Hudspeth an incoming class of 20 athletes.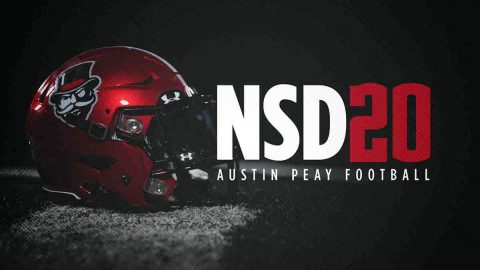 APSU February 2020 Recruiting Class Biographical Sketches
Kory Chapman, Safety
A safety for head coach Josh Niblett at Hoover High School… An Alabama Sports Writers Association Class 7A All-State selection as a senior… Helped Hoover reach AHSAA Class 7A state semifinals in 2019 and a Region 3 championship in 2018.
CJ Evans, Running Back
A running back for head coach Earnest Hill, helped McGill-Toolen Catholic high School win Class 7A Region 1 title and reach second round of state playoffs in 2019… An Alabama Sports Writers Association Class 7A All-State selection as a senior… Selected to play in 2019 Alabama-Mississippi All-Star Game… A three-star rated athlete by 247Sports.com.
Breant Kendall, Offensive Lineman
A right tackle for head coach Anthony Broering, helped Northmont High School reach OHSAA Region 2 quarterfinals in 2020… Selected to play in Ohio High School Football Coaches Association's North-South All-Star Games.
Hosea Knifeley Jr., Defensive End
A defensive end and linebacker for head coach Gary Wheeler, helped Butler Traditional High School reach Kentucky High School Athletic Association's Class 6A state tournament… Named to 2019 Louisville Courier-Journal Metro Louisville All-Area Football Teams… Selected to 2019 Kentucky East-West All-Star Game and was named West Defensive MVP… A three-star rated athlete by 247Sports.com
Brandon Lanier, Tight End
A quarterback for head coach Arvie Crouch at Mt. Healthy High School… was a special mention selection on the 2019 Division III OPSWA All-Ohio Football Teams… Named a Cincinnati Enquirer First-Team Division III All-Star Team… An All-Southwest Ohio District First-Team selection… Holds program record with eight touchdowns in a game… A two-sport athlete who is averaging 8.9 points and 6.3 rebounds per game this season on the basketball court.
TyQaze Leggs, Defensive Tackle
A defensive tackle for Eddie Woods, helped Cane Ridge reach Tennessee Class 6A second round… An All-Region 4-4A selection as a junior at Maplewood High School, which reached the 4A state semifinals… A three-star rated athlete by 247Sports.com
Bryce Nicely, Offensive Lineman
An offensive lineman for head coach Steve Matthews at Knoxville Catholic… Member of 2017 TSSAA Division II Class AAA State Champions… An All-Region selection as a junior (2018).
Koby Perry, Safety
Attended Troy last season but did not play… Led Dodge City Community College with 81 tackles and 8.5 tackles for loss as a sophomore … Intercepted a pass, broke up two passes, forced a fumble and recovered two fumbles … Finished his freshman season with 67 tackles, seven tackles for loss, a pass break up, a fumble recovery and three blocked punts … Rated as a three-star prospect by 247Sports… Was a safety for head coach Jason Dukes at Alcovy High School… Recorded 56 tackles, eight tackles for loss, a pair of interceptions, eight pass break ups and 305 all-purpose yards as a senior… Earned first team all-region and all-conference honors following his senior season … Also lettered in basketball and track for the Tigers.
Ja'Quan Randolph, Wide Receiver
Played cornerback, safety and wide receiver for Robert Paxia at Lake Gibson High School as a senior after four seasons at Lakeland Victory Christian High School… Named to Sarasota Herald Tribune All-County Team as a senior… Honorable Mention All State as a junior and senior at defensive back… A three-star rated athlete by Rivals.com and 247Sports.com.
Grant Wisdom, Linebacker
A linebacker for head coach Randal Martin at Deshler High School… Finished career with 325 career tackles, 10 forced fumbles and eight fumbles recovered… An Alabama Sports Writers Association Class 4A All-State selection as a sophomore and senior… Helped lead Deshler to 2018 Class 4A State Championship game and to state quarterfinals in 2019… A three-sport athlete who also competes in baseball and wrestling… A two-time state championship qualifier in wrestling with a 50-15 career record… A first baseman and pitcher selected to the 2019 Alabama North/South All-Star Game.
Austin Peay Football 2020 Recruiting Class
| | | | | | | |
| --- | --- | --- | --- | --- | --- | --- |
| Name | Ht | Wt | Pos | Hometown | High School | Prev Univ |
| Terrell Allen | 6-0 | 257 | DT | North Little Rock, Ark. | North Little Rock HS | |
| Nick Carozza | 6-1 | 225 | LB | Alpharetta, Ga. | Denmark HS | |
| Kory Chapman | 5'11 | 195 | SAF | Hoover, Ala. | Hoover HS | |
| Elijah Culp | 5-11 | 175 | CB | Charlotte, N.C. | Mallard Creek HS | |
| Draylen Ellis | 6-2 | 175 | QB | Olive Branch, Miss. | Kirby HS | |
| CJ Evans | 5-9 | 175 | RB | Mobile, Ala. | McGill-Toolen Catholic HS | |
| Robert Holmes | 6-3 | 310 | OL | West Palm Beach, Fla. | Oxbridge Academy | UConn |
| Breant Kendall | 6'4 | 280 | OL | Dayton, Ohio | Northmont HS | |
| Hosea Knifeley Jr. | 6'2 | 223 | DE | Louisville, Ky. | Butler Traditional HS | |
| Brandon Lanier | 6'3 | 250 | TE | Cincinnati, Ohio | Mount Healthy HS | |
| TyQaze Leggs | 6'3 | 312 | DT | Nashville, Tenn. | Cane Ridge HS | |
| KJ Murden | 6-0 | 167 | DB | Bolivar, Tenn. | Bolivar Central HS | |
| Conner Murphy | 6-1 | 205 | LB | Murfreesboro, Tenn. | Blackman HS | |
| Bryce Nicely | 6'3 | 265 | OL | Knoxville, Tenn. | Knoxville Catholic | |
| Cade Payne | 6-0 | 200 | LB | Cumming, Ga. | Pope HS | |
| Koby Perry | 6-1 | 170 | SAF | Covington, Ga. | Alcovy HS | Dodge City CC/Troy |
| Ja'Quan Randolph | 6-1 | 185 | WR | Lakeland, Fla. | Lake Gibson HS | |
| Vincent Taylor | 5-10 | 180 | WR | Memphis, Tenn. | Ridgeway HS | Mississippi State |
| Kam White | 6-2 | 210 | SAF | Clinton, Miss. | Clinton HS | Ole Miss |
| Grant Wisdom | 6'0 | 240 | LB | Tuscumbia, Ala. | Deshler HS | |