Clarksville, TN – Every week, Clarksville Online will be bringing you pets from different rescue organizations that are in need of a good home in Clarksville-Montgomery County and surrounding areas. This week's pets are for the week of February 13th, 2023.
Dogs and cats of all ages, breeds and sizes are available through area animal rescues and shelters, as well as opportunities to help homeless animals through foster programs, donations, and help with fundraisers and other family-friendly activities.
Contact a rescue near you to learn more.
Montgomery County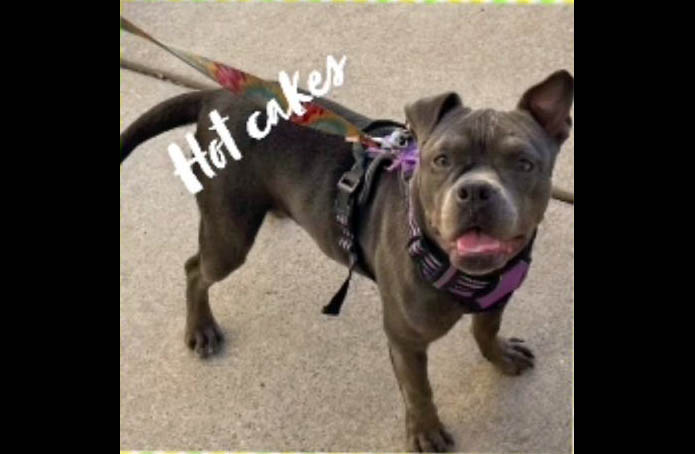 Hot Cakes is a young female Terrier /French Bulldog mix. She is fully vetted, is current on vaccinations, house trained and will be spayed before heading to her new family. She is good with other dogs and fine with children.
She is a small girl weighing in at 23 pounds. She is doing well with leash training, has tons of energy and enjoys her walks! Come take her for a walk and fall in love with your new best friend!! For more extensive details MCACC will be glad to answer your questions.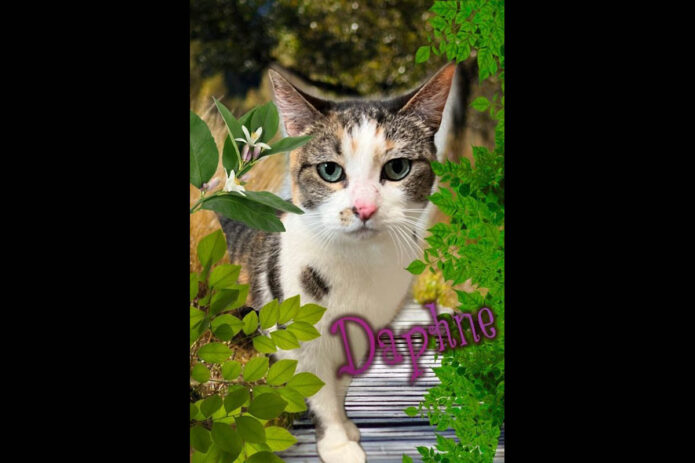 Daphne is an adult medium, female Japanese Bobcat. She is litter trained, fully vetted and spayed so she can go home the same day!
Find them both at Montgomery County Animal Care and Control, 616 North Spring Street, 931.648.5750, www.facebook.com/MontgomeryCountyAdoptionServices
Finders Keepers Cat Rescue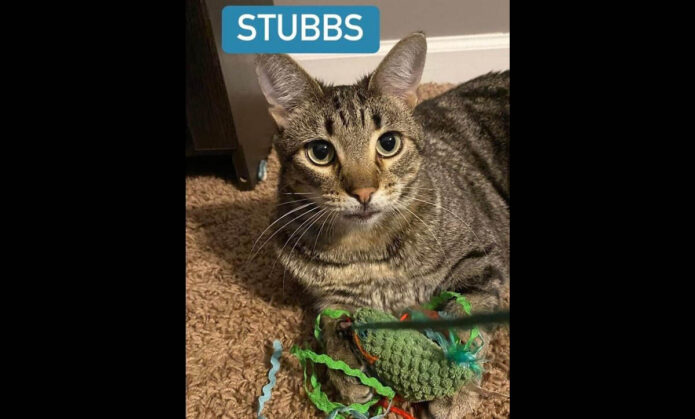 Stubbs is an adult male domestic shorthair looking for his forever Valentine! Stubbs is sadly a member of the Lonely Hearts Club and he would give anything to be in his forever home! He is neutered, fully vetted, and litter trained.
He does well with calm, well-mannered dogs and is great with children but does need to be the only cat in the home. He is very chill but does enjoy interacting with toys and will be very vocal when he wants attention OR it's dinner time!! Stubbs wants to know "will you be my Valentine"?
Stubbs can be found through the Finders Keepers Cat Rescue, message them on FB or www.petfinder.com/member/us/tn/clarksville/finders-keepers-cat-rescue-tn984/ or email finderskeeperscatrescue@gmail.com
Cat Adoption Team of Stewart County (CATS)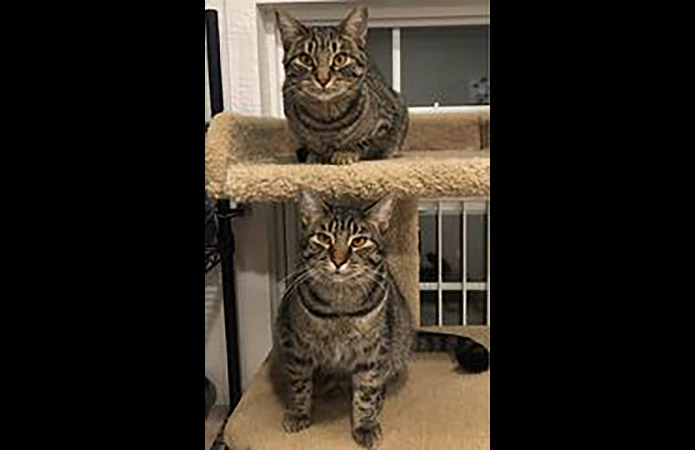 Carter and Cooper are a bonded pair of one-year-old siblings. They were very shy the first year of their lives and that might have quite possibly caused them to be passed by for adoption. They have blossomed under the wonderful care of the rescue folks and have turned into the friendliest boys, always seeking attention!
The rescue feels that they will continue to blossom with their own forever family! They are fully vetted, FELV/FIV neg, deworming, on flea and tick prevention, litter trained and neutered. These two are fun, playful and keep each other company and entertained.
They can be found through the Cat Adoption Team (CATS). Contact Susan at 931.305.8212 text or leave a message or message through their FaceBook page www.facebook.com/CatAdoptionTeamOfStewartCountyCATS
Stewart County Faithful Friends Animal Rescue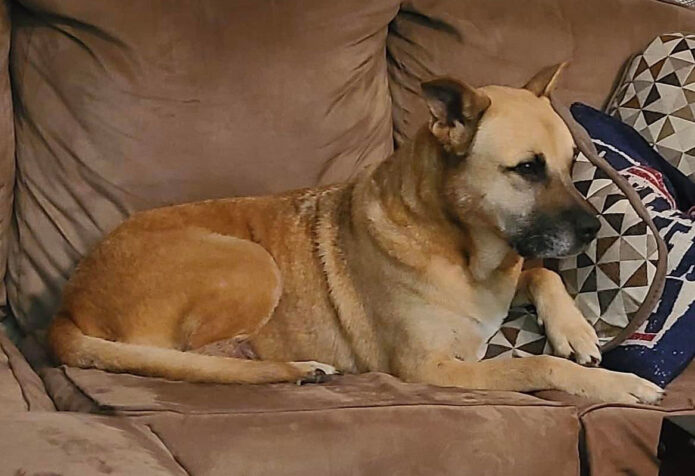 Bruce is looking for his forever home. He is such a sweet, calm 7-year-old male Lab mix. He is fully vetted, neutered, house-trained, and on Heartworm prevention. Bruce was raised by an elderly gentleman until health issues led to him no longer being able to care for this guy.
Bruce at this time does seem to prefer men. He does need to be the ONLY pet in the home and NO children, please. He will bond quickly to his person, will thrive in a very calm, quiet environment, so if you would like a super chill companion or a partner for jogging or hiking then look no further for your new best friend!!!
Come meet him through Stewart County Faithful Friends Animal Rescue, 931.627.1459, www.facebook.com/scffar2010/
Companion Pet Rescue of Middle Tennessee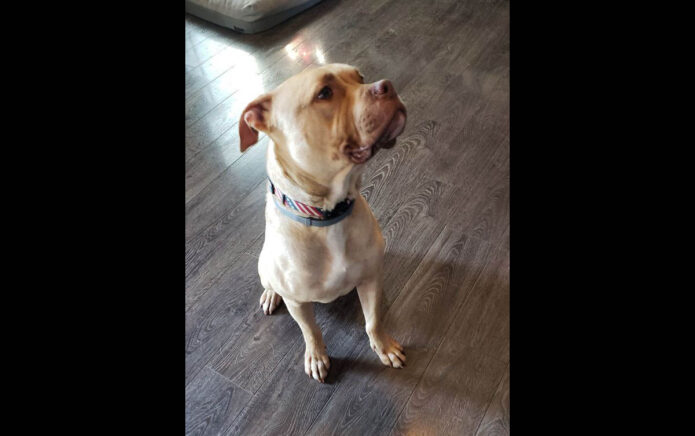 Meet Loveable Larry!! Larry is such a handsome Pit Bull terrier mix and would really love to meet you!! This absolute love bug just wants to please his people, give kisses and be wherever you are.
He is fully vetted, neutered, and house & crate trained. He is great with children but prefers and needs a home without other dogs or cats. A big yard for him to play in with balls for chasing, ropes for tug-of-war games, and lots of toys would be perfect!!
Larry can be found through Companion Pet Rescue of Middle Tennessee, 615.260.8473, or www.facebook.com/companionpetrescueofmiddletennessee/
Two Ladies Caring Dog Rescue
Sabastian is almost 8 years old and he is a Yorkshire Terrier mix. This little nugget is playful and curious. He is neutered and fully vetted and microchipped. He is a bit skittish at first, but once he warms up he is a lovebug!
He knows a doggie door but if you do not have one you will need to finish his house training. He is good with other dogs but PLEASE no children. He will be a wonderful, fun addition and companion!
For more details and information you can find her through Two Ladies Caring Dog Rescue, 931.217.1587, www.petfinder.com/shelters/TN505.html
Sagley's Biker Bully Farm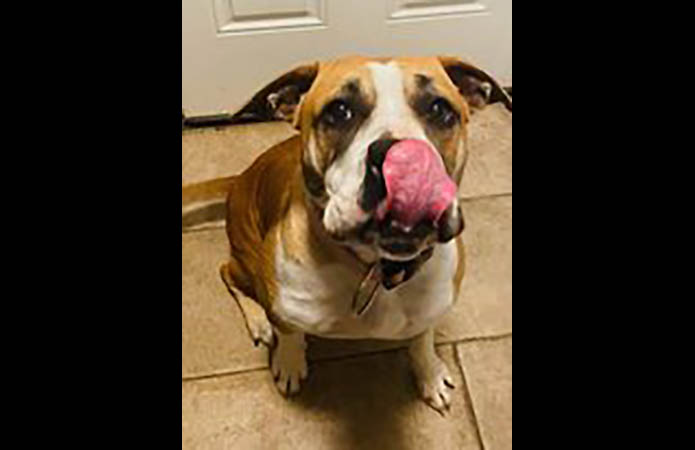 Daisy is an adorable one-and-a-half-year-old mix breed. She absolutely just loves people, is very good with dogs, fantastic with children, and just loves giving kisses, is fully vetted and spayed. She is very loyal and will follow you around.
She is house and crate trained, knows how to sit and is basically a couch potato! She loves to play, then settles nicely. She does prefer to be the only animal in the home since she wants all the love and attention! Daisy is waiting to meet you!!!
If you are looking for that special new family member please reach out to Lisa at Sagley's Biker Bully Farm, 785.207.5641 or www.facebook.com/SBBF.Rescue
Puurrrfect Paws Rescue & Cat Cafe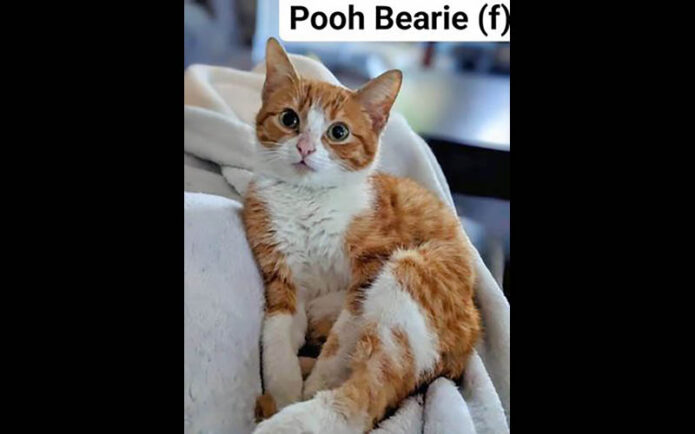 Pooh Bearie is a 12-14 week old female kitten looking for her forever home. She is spayed, fully vetted, shots updated and litter trained. She is a little shy at first but very sweet and social once she's comfortable. She would love another kitty companion.
Pooh loves chasing her kitty friends around and playing with toys but then snuggles up in your lap for love and attention. She'll be a wonderful companion! PPR&C also has a wonderful Cat Cafe in town.
To set up a meet and greet and for more information on all the cats please go to www.puurrrfectpawsrescue.com or message them through their FB page, Puurrrfect Paws Rescue & Cafe.
Hot Rod's Garage Senior Sanctuary
Mowgli is a very charming, young, male Boxer mix. Mowgli is friendly, playful, affectionate, curious, and loves giving kisses! He is fully vetted, house-trained and neutered. He is good in a home with other dogs and does fine with children.
He has a great disposition and will make a great playmate to another dog and be a wonderful partner for any adventure! If you think he will be a great fit in your life and you can be that special friend, please contact the rescue.
For more details ball 931.801.1907 or email Hrgsrsanc@gmail.com https://docs.google.com/forms/d/1GwXSlg0hKDKniRHmrTkHuRwGG9s-3GQ8Ke1Ftdg-F-Q/edit?usp=sharing
Mikaela's Mutt Motel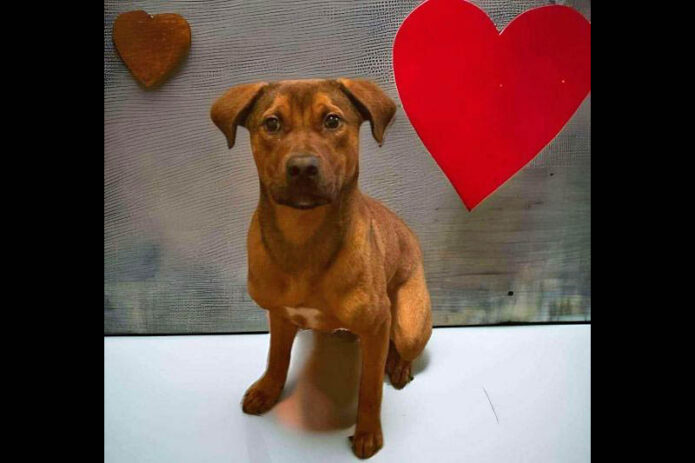 Friar Tuck is the sweetest 8-month-old Rhodesian Ridgeback/Redbone Coonhound mix puppy. This handsome guy is playful, smart, curious, and funny. He is fully vetted, neutered, HW negative, and up to date on Heartworm and flea, and tick prevention. He does well with adults and children, dogs and cats.
He is crate trained but will need a little more work with overnight housetraining. He's almost there, but a family with patience and love to help him along would be wonderful. Friar comes with a free training evaluation @ Legend Acres and 50% off 2 months of Parapooper Scooper if you live in their service area.
To find out more about him you can go to www.mikaelasmuttmotel.org/friar or message them on Facebook at www.facebook.com/mikaelasmuttmotel
You can also reach them at 931.342.2526 and emailing adopt@mikaelasmuttmotel.org