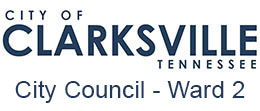 Clarksville, TN – On Wednesday, March 1st, 2023 Deanna McLaughlin, Clarksville City Councilwoman for Ward 2, will hold a Town Hall Meeting at the Clarksville Police Department Precinct. The meeting will begin at 5:30pm and last until 6:30pm.
We will discuss the items that will be voted on by the Clarksville City Council on March 2nd, 2023 along with updates on what Councilman McLaughlin is working on.
You do not have to live in Ward Two to attend, all are welcome!
The Clarksville Police Department Precinct is located at 211 Cunningham Lane in Clarksville.