As officials dissect the events leading up to the massacre at Virginia Tech that claimed 32 lives this week, an alarming number of prior warning signs are emerging: prior incidents of stalking, fire setting, hospitalization for mental health issues, a pattern of bizarre and violent writing severe enough to concern professors and counselors … any one of these should have been a wake-up call. But was anybody listening hard enough to take action? Was the fear of civil repercussion (lawsuits) floating under the surface. Who was connecting the dots? Anybody?
I have questions dancing in my head about the rising tide of shape-shifting information that is emerging. As a liberal, I grapple with issues of gun control (right to bear arms vs do we really need automatic weapons in every home?), rights to privacy (medical records, mental health records), and even the freedom of speech to write bizarre and violent scenarios (look at the crazy and horrific tales spun by best-selling authors Stephen King, John Saul, Dean Koontz and such, who seem a long way from killing anybody in real life) . «Read the rest of this article»

On February 19th I was contacted by Helen Zia on her way here to do a story for The Women's Media Center about the 101st soldier being prosecuted for the rape and murder of a 14 year old Iraqi girl and murder of her family. See Helen's article at:
Polly Coe and I met with Helen briefly while she was here. She is a very kind and strong person, and she repeated what a great job we are doing here in Clarksville to be connected, aware and active in civil liberties. It was very nice to have someone of such magnitude interested in us and what we are doing. I could see through her eyes that we really are on the front lines so to speak. Anything we do here is a bold new step.
Helen asked me what the group I started; the Clarksville Freethinkers for Peace and Civil Liberties is doing next. I said we are evolving into this website to be connected, informed and entertained. «Read the rest of this article»
A second round of frigid weather has placed a firm grip on the mid-south today. The National Weather Service's official forecast does not allow us to get above the freezing mark for over 48 hours. According to the official forecast, the Clarksville area could see temperatures bottom out in the single digits Thursday night. The wind chill, or "feels like" temperature, will dip below zero. After this week's blizzard in the Midwest and Northeast, our temperatures could dip even colder than currently forecast as a cold Arctic wind howls over a frozen snowpack laid down north of us. Old man winter won't let up on us this weekend either. In the extended forecast, there's a chance of seeing snow again on Saturday.
«Read the rest of this article»

There are over 8.5 million Americans including my own mother who are living with tobacco-related illnesses. With this in mind "The Truth" saddled up a horse, found a cowboy with a hole in his neck as a result of smoking, and asked him to sing a little ditty…
Part of the "Truth" anti-smoking ads, a singin' cowboy rides through the streets of NYC, mechanically intoning a cowpoke song through his tracheotomy voicebox.
https://www.youtube.com/watch?v=xRHvZazd4IM
«Read the rest of this article»
The Tennessee Equality Project Foundation presents the following Lobbying 101 event to prepare you to advocate for equality. We need you at these events: Lobbying 101 in Clarksville & Advancing Equality Day on the Hill!
Lobbying 101 in Clarksville
Thursday, February 1, 7-9 pm
Unitarian Universalist Fellowship of Clarksville
3053 U.S. 41-A
Advancing Equality Day on the Hill
Tuesday, February 20 at 8:30 a.m., the Tennessee Equality Project presents the 3rd annual Advancing Equality Day On The Hill, a day in Nashville meeting with your legislators to express your views on proposed legislation affecting the Gay, Lesbian, Bisexual & Transgender Community.
«Read the rest of this article»

In a special called session of the Clarksville City Council, members voted 11 – 1 to approve severance agreements for Police Chief Mark Smith and Deputy Chief Bob Davis. Ward 2 Councilwoman Deanna McLaughlin cased the lone vote against the agreements, citing input from her constituents.
Before the vote Clarksville Mayor Johnnie Piper stated that he believed a leadership change among the two top police officers in the department would go a long way in healing the problems in the Clarksville police department. Deputy Chief Bob Davis who was scheduled to retire in June agreed to retire on February 1, 2007 along with Chief Mark Smith, but the city will continue to pay for any legal fees already associated with several discrimination law suits filed by members of the police department.Under the agreements, Smith will be paid a one-time payment of $75,000, and Davis will receive $15,642.
Several police officers present who have filed law suits when asked about the councils vote stated that they do not agree to pay a person to leave because if it was one of them who was being fired they would not be offered any type of severance pay. However all agreed that it is time for the community and for the police department to move forward in this matter.

This is just as applicable today as it was in 1967. All you need to do is swap out the word Iraq with Vietnam, and Iraqi with Vietnamese. It's frequently said that those who forget the past, are doomed to repeat it. This is something I think is absolutely on target. We forgot…

Martin Luther King speaks out against the Vietnam War.

This speech was released by Black Forum records, a subsidiary of Motown, and went on to win a Grammy in 1970 for the Best Spoken Word Recording.

Excerpts of a Sermon at the Ebenezer Baptist Church on April 30, 1967.
«Read the rest of this article»
The FreeThinkers for Peace and Civil Liberties held a Peace Vigil Sunday at Patriot's Park in Clarksville to mark another milestone in the Iraq War: 3,000 troops lost over the duration of the war.
Coming on the last day of 2006, the 3,000th death marks a sad ending to a grim year of loss, and sets a tragic baseline from which to start the New Year.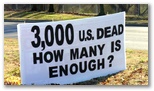 Large signs placed facing both north and southbound traffic asked the question: "3,000 dead; how many more have to die?" They also cited statistics that included the number of non-fatal injuries (45,000+) and the high incidence of mental health issues including post-traumatic stress that according to government reports affect about 25% of returning soldiers, a number some local psychologists and therapists feel is grossly understated. Iraq civilian casualties are estimated to be between 52,000 and 57,000. (Statistics from icasualties.org)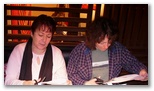 The vigil was organized by FreeThinkers founder, artist and activist Debbie Boen and activist/writer Christine Piesyk. Boen was saddened and frustrated by today's milestone number, which has been relatively unheralded, unnoticed in the bustle of the holiday season. «Read the rest of this article»

From all of us at Clarksville Online to you and all of yours. We wish you a merry Christmas and a Happy New Year and hope that your next year is better than the last.


Rev. Charles Moreland of Clarksville was presented with the Montgomery County Democratic Party's Lifetime Achievement Award Tuesday evening (Dec. 19) during the MCDP's annual holiday reception at the Smith-Trahern mansion. The award recognized Rev. Moreland's years of commitment and service to the party and to the community at large. Senator Rosalind Kurita made the presentation on behalf of the MCDP.
Rev. Moreland, a retired military chaplain and Methodist minister, "has worked tirelessly and enthusiastically" in support of the party, in addition to the many community services and activities he is involved in, Kurita said. The announcement drew a wave of applause for the well-known minister.

Betsy Ignacio was presented with the Major Nathaniel Carter Volunteer of the Year Award for her "dedicated" ongoing work on behalf of the party and its candidates.
MCDP Chairman Keith Amaral hosted the brief awards ceremony, acknowledging gains the party made across the country in the recent elections, urging MCDP members to "keep the momentum going" with an eye to the 2008 elections. «Read the rest of this article»