Topic: APSU Permanent Art Collection
Austin Peay State University (APSU)

Clarksville, TN – As Austin Peay State University (APSU) freshman Sarah Potter combed through the University's art collection in early February, she came across a photo of a man sitting on a rock, his back to the camera.
"I was looking for personality, for stories," Potter, who's curating an exhibit for the walls of Human Resources in the Browning Administration Building, said. "I liked it, so I set it aside with the other photographs."
«Read the rest of this article»

Clarksville, TN – The Austin Peay State University Department of Art and Design will unveil its newest exhibition, Topography: Exploring Dimensionality in the Jim and Nan Robertson Photography Collection this November.
Curated by Jewel Birdsong Scholarship and Presidential Scholarship recipient Sara Straussberger, the exhibition will be on display from November 10th-March 2017 in the Harned Building's Mabel Larson Gallery.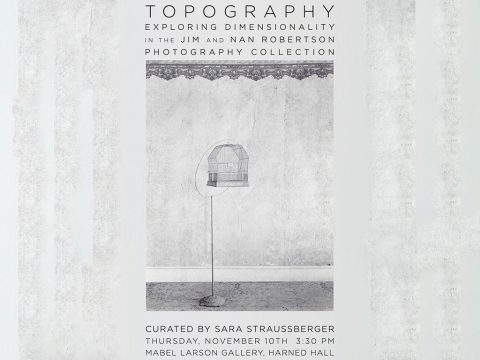 «Read the rest of this article»

Clarksville, TN – Internationally acclaimed artist and sculptor Chris Boyd Taylor is the creator of Austin Peay State University's newest permanent art installation, "The Cardboard Kids," and he returns to campus for an official unveiling and artist talk at 3:00pm on Tuesday, August 30th in the Morgan University Center, Room 303.
A reception will precede the event at 2:30pm.
«Read the rest of this article»

Clarksville, TN –  To pay tribute to a student population at the very heart of Austin Peay State University's (APSU) mission, work recently began on a permanent art installation on the University campus, titled "The Cardboard Kids: Monument to the Non-Traditional Student."
Non-traditional students come in all shapes, sizes and backgrounds. For some, marriage and a family changed their priorities, while others may have enlisted in the military or simply decided a four-year college wasn't right for them after graduating high school.
«Read the rest of this article»