Topic: Boot Hill
Written by Joe Pitts
Tennessee State Representative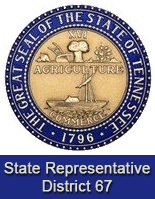 Clarksville, TN – The Montgomery County delegation of the Tennessee General Assembly is pleased to announce an amendment to the legislature's highway and bridge naming bill has been filed to designate a portion of Providence Boulevard will be named in memory of Pastor Jimmy Terry, Sr. The designated section will begin at the Red River Bridge and continue up Boot Hill and end at Peachers Mill Road.
Pastor Terry, a beloved and iconic citizen of Clarksville and Montgomery County died in June 2017. Pastor Terry was the pastor of Tabernacle Missionary Baptist Church on Market Street in Clarksville, and he and his wife, Sister Servella Terry, founded the Tabernacle Christian School sharing a campus with the church.
«Read the rest of this article»
Clarksville Police Department

Clarksville, TN – Based on info just provided by Clarksville Patrol Officers, the road conditions range from icy to passable. The road crews have been hitting it hard all night, but in some places they haven't made a dent.
It seems as though Fort Campbell Boulevard and Tiny Town Road and the north side of town in general has some fairly slick conditions in general. Trenton Road and Needmore Road continue to be problematic.
«Read the rest of this article»

Clarksville, TN – The Clarksville Police Department reports as of 5:00am, Tuesday Morning, February 17th, no city streets are closed, but many are barely passable. There have been twelve crashes in the last twelve hours. Five of those crashes involved injuries.
Police are still not aware of any loss of electricity anywhere in the city. CPD has also responded to 46 motorist assistance requests in the last twelve hours. All traffic lights are functioning. The roads are so bad in some areas that patrol cars are getting stuck. In one or two cases, tow trucks have even gotten stuck.
«Read the rest of this article»

Clarksville, TN – The Clarksville Police Department reports there have been twenty-four reported collisions since 9:00am. Four of those involved injuries. Patrol cars have gotten stuck in all three districts. Any street with a significant hill is a problem.
The most problematic areas right now are the 1200 block of Needmore Road, New Providence Road at the Cumberland River Bridge (Boot Hill), the South Bypass, and Tiny Town Road near Peachers Mill Road. Most of these areas involve the aforementioned significant hills.
«Read the rest of this article»

Clarksville, TN – In an effort to reduce accidents and crime that occur along the US 41A corridor, from Boot Hill to State Line Road, all units within the Clarksville Police Department joined forces for a special operation targeting traffic offenders on October 28th and November 2nd, 2:00pm-10:00pm.
The majority of the 30 plus officers were from on-duty resources throughout the department. The primary goals were to target traffic offenses most likely to cause accidents, conduct drug interdiction, and develop leads/suspects within the areas identified through crime and traffic statistics.
«Read the rest of this article»

Clarksville, TN – Travel on the roads is difficult in many areas.  Many of the roads are backed up and gridlocked especially in areas with any sort of incline.  The traffic is backed up at the Red River Bridge and traveling up Boot Hill causing travel delays. 
The patrol officers are responding to calls for service as quickly as they can, but the road conditions, vehicles disabled and accidents means call will have to be prioritized possibly causing delays on routine calls.
Between 10:00am-4:00pm, 61 non-injury accidents, 11-Injury accidents, and 5 hit and runs.
  «Read the rest of this article»