Clarksville, TN – In an effort to reduce accidents and crime that occur along the US 41A corridor, from Boot Hill to State Line Road, all units within the Clarksville Police Department joined forces for a special operation targeting traffic offenders on October 28th and November 2nd, 2:00pm-10:00pm.
The majority of the 30 plus officers were from on-duty resources throughout the department. The primary goals were to target traffic offenses most likely to cause accidents, conduct drug interdiction, and develop leads/suspects within the areas identified through crime and traffic statistics.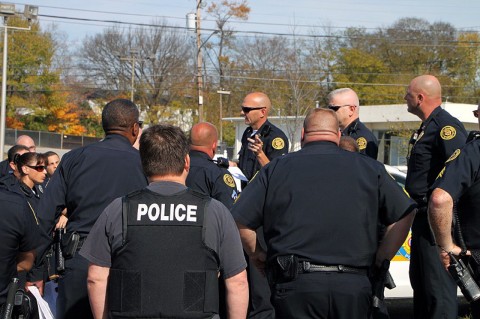 The operation also served as a lead in to the Targeted Community Crime Reduction Program Grant–Operation Defiance. The Police Department will have an official kick-off and announcement for the program in the near future.
During the special operation time frame, there was only one minor accident. The average amount of accidents along the 41A corridor is usually around 10-15 per day.
DUI – 1
Equipment/Light Violations-12
Revoked/Suspended License-27
Improper Passing-4
Improper Turns-9
Insurance-140
Drugs-3
Seat Belt-47
Following Too Closely-25
Light Law-78
Other Driver License Violations-30
Speeding-286
Traffic Signals – 60
Tint-17
Failure to Use Reasonable Care-12
Reckless Driving-1
Registration – 71
Failure to Yield-7
Speeding in School Zones-11
Move Over Law-6
Loud Music-2
Other Violations(Texting-2, School Bus-2, Warrants on File-2, Implied Consent-1, Unlawful Carrying of a Deadly Weapon, Driving Across Private Property to Avoid Signal-8, Failure to Signal-2)
Total Number of Stops: 816
City Charges: 759
State Charges: 109
Total Charges: 868
Total Custodial Arrests: 17
Photo Gallery