Topic: Operation Defiance

Clarksville, TN – On October 28th, 2012, the Clarksville Police Department in conjunction with several community partners hosted a Trunk-or-Treat in the Operation Defiance area at the New Providence Community Policing Center.
It is part of the Police Department's multifaceted efforts to build rapport and improve the quality of life in the Operation Defiance community.
«Read the rest of this article»

Clarksville, TN – As part of the Clarksville Police Department's efforts to clean up the Operation Defiance area, on May 11th and 12th, the Special Operations Unit conducted a prostitution sting on Providence Boulevard.
Four of the six men were charged with Patronizing Prostitution after offering female undercover officers money for sexual acts: George Nicholson, Timothy Epps, and Graelin Phillips.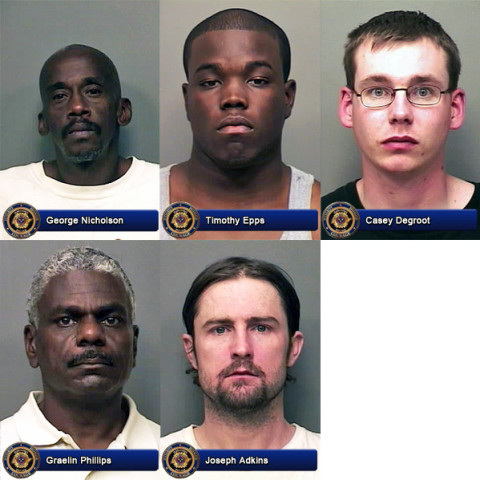 «Read the rest of this article»

Clarksville, TN – The Clarksville Police Department will be holding a Community Meeting for the residents of the Operation Defiance/New Providence area on March 13th, 2012, 5:00pm at the New Providence Community Center located at 640 Providence Boulevard.
This meeting will give the residents an opportunity to meet Clarksville Police Chief Ansley, the Police officers and partners working to improve New Providence, receive the latest information about the ongoing projects, learn first-hand of upcoming events, programs and services available to the New Providence community.
If there's one person who absolutely gets no respect, it's a cop.  I admire a person who wants to be one.  There's not a lot about doing the job that appeals to anyone.  A cop is born to be a cop.  It's something they've always wanted to do.  "To uphold the law."  "To protect and serve."
The Clarksville Police Department has one of the finest leaders it's ever had in Chief Al Ansley.  Ansley was appointed chief during the Piper administration, and takes a no nonsense approach to his work.  His commanders are loyal brothers in arms.  Fellow warriors of the streets who know how to get the job done, and understand what their chief demands.  If ever there was a "team effort", this is it.  The results are evident. «Read the rest of this article»

Clarksville, TN – In an effort to reduce accidents and crime that occur along the US 41A corridor, from Boot Hill to State Line Road, all units within the Clarksville Police Department joined forces for a special operation targeting traffic offenders on October 28th and November 2nd, 2:00pm-10:00pm.
The majority of the 30 plus officers were from on-duty resources throughout the department. The primary goals were to target traffic offenses most likely to cause accidents, conduct drug interdiction, and develop leads/suspects within the areas identified through crime and traffic statistics.
«Read the rest of this article»