Topic: Nashville Cares
Nashville, TN – Nashville CARES held its 29th Annual (and first-ever virtual) Nashville AIDS Walk on Saturday, November 21, 2020. Fundraising efforts began 35 days prior, in honor of the agency's 35th anniversary this year.
«Read the rest of this article»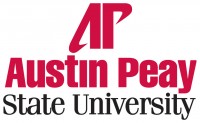 Clarksville, TN – February is now upon us, and the Austin Peay State University Wilbur N. Daniel African American Cultural Center has a busy month of events planned in recognition of the Black History Month.
Some of the events are National Black HIV/AIDS Awareness Day, Second Annual 5K Breast Cancer Awareness Fun/Walk, "Who Will Lead the Next Social Movement" lecture and several others. Make sure to mark your calendars and come out to these wonderful events. «Read the rest of this article»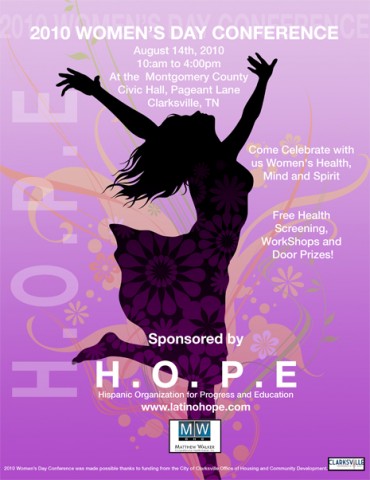 On Saturday from 10:00am till 4:00pm the Hispanic Organization for Progress & Education (H.O.P.E.) will be holding their 2010 Women's Day Conference at the Montgomery County Civic Hall at Veterans Plaza (350 Pageant Lane).
The conference will provide a wide variety of information and activities for women including health screenings, Cooking and Home Decor tips, food samples, hand-made crafts, Satin Hands, Make-overs, a Clothes Closet, hourly prizes, and much more!
Valerie Guzman will be the Emcee for the day. Special guests include Mrs. Tennessee International Cydney Miller and Social Entreprenur April Boyed-Noronha will also be on hand.
So come on out and be a part of this amazing celebration of Women's Heath, Mind, Body, & Spirit. «Read the rest of this article»
In the current economy, many charities are facing bleak prospects for the coming year. End-of-year donations serve a dual function: boosting the bottom lines of non-profits dedicated to assisting people or meeting specific community needs, and giving donors the opportunity to make tax-deductible contributions that can be applied to their 2008 taxes. Over the next week, we will profile a number of community agencies and organizations who can benefit from your generosity.

CAMTAN is the local organization assisting individuals affected by the HIV pandemic within our own demographic. an IRS certified local 501 (C) 3 non-profit in need of community support.
As 2008 comes to a close, consider making a tax-deductible donation to this Clarksville-based non-profit. Started by a small collective of local ministerial leaders and lay people, the Clarksville Area Ministers Technical Assistance Network (CAMTAN) seeks to provide assistance, support and education to persons affected by the HIV/AIDS pandemic and the greater community. «Read the rest of this article»
Local ministry effort confronts HIV/AIDS pandemic. Offers general health advisories and assistance to those suffering from the disease.
Five years ago, a meeting of local area ministers resulted in the founding of the Clarksville Area Ministers Technical Assistance Network, CAMTAN. A non-profit group organized to provide mental, physical, and spiritual assistance to those confronting an HIV/AIDS infection. CAMTAN also seeks to provide capacity building faith-based responses to HIV/AIDS. The organization furthers seeks to combat this disease with a prevention education outreach campaign as well.
Dispelling the vast amount of misinformation and simply false data about this disease that is circulating within the community takes a considerable amount their time. CAMTAN's client service area includes the city of Clarksville; Montgomery, Robertson, Chetham, Dickson, Stewart, Houston and Humphreys Counties. Clarksville is the central operation base.
«Read the rest of this article»

On December 1, the Austin Peay State University Gay-Straight Alliance will sponsor Day Without Art 2006. The event will be held in front of Trahern Gallery in the Trahern Building at Austin Peay State University. The community at large is welcome to attend. Day Without Art coincides with World AIDS Day and launches each year on the first day of December. Day Without Art culminates in an annual observance that publicly unites individuals and organizations around the world on the impact of HIV/AIDS, while simultaneously fostering AIDS awareness. 
A day without the art work that one is used to viewing on campus on a daily basis is a silent, yet poignant vigil to those who have died, or been infected from the disease. World AIDS Day bills itself as "one of the most successful international days with activities taking place in almost all countries at the national and local levels." The theme for 2006, according to www.worldaidsday.org, will be: "Stop AIDS, Keep the Promise." «Read the rest of this article»