Topic: Opioid Addiction
Legislation includes Complete College Tennessee Act of 2018, Juvenile Justice Reform Act of 2018, UT FOCUS Act, and TN Together
Nashville, TN – Tennessee Governor Bill Haslam announced his legislative agenda for the 2018 session, continuing his focus on leading the nation in jobs, education, and efficient and effective government.
"We have made so many strides in higher education and workforce development, and we must not let up now. One of our top priorities this year will be making sure our students who receive Tennessee Promise and HOPE scholarships compete college on time, helping us reach our Drive to 55 goal," Haslam said.
«Read the rest of this article»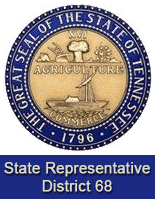 Nashville, TN – This week's action on Capitol Hill was highlighted by Tennessee Governor Bill Haslam's eighth and final State of the State Address where he talked about Tennessee's unprecedented successes, his legislative priorities and his budget proposal to fund state government for the 2018-2019 fiscal year.
Governor Haslam reflected on the past seven years, working with the General Assembly to create a strong commitment to jobs, education and conservative fiscal policy that has resulted in significant accomplishments.
«Read the rest of this article»
Written by Curtis Johnson
Tennessee State Representative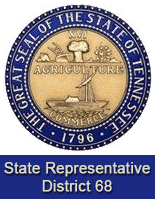 Nashville, TN – Tennessee's opioid crisis was front and center this week as Governor Bill Haslam, members of the General Assembly, and other state leaders announced a comprehensive plan to tackle the problem.
The plan, called TN Together, employs a three-legged stool of enforcement, treatment and prevention to stop the flow of these drugs in the state, help those who are addicted, and prevent citizens from becoming drug-dependent.
Tennessee Department of Health data shows 1,631 Tennesseans died from drug overdoses in 2016, while there were 13,034 nonfatal overdoses reported.
«Read the rest of this article»
TN Together Fights Opioid Addiction through Prevention, Treatment and Law Enforcement
Nashville, TN – Joined by leadership from the House and Senate and Chief Justice Jeff Bivins, Tennessee Governor Bill Haslam on Monday announced an aggressive and comprehensive plan to end the opioid epidemic in Tennessee by focusing on three major components: prevention, treatment and law enforcement.
TN Together is a multi-faceted initiative that addresses the issue of opioid addiction through legislation, proposed funding in the governor's 2018-19 budget and executive actions.
«Read the rest of this article»