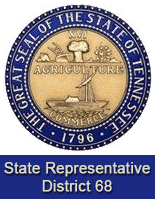 Nashville, TN – This week's action on Capitol Hill was highlighted by Tennessee Governor Bill Haslam's eighth and final State of the State Address where he talked about Tennessee's unprecedented successes, his legislative priorities and his budget proposal to fund state government for the 2018-2019 fiscal year.
Governor Haslam reflected on the past seven years, working with the General Assembly to create a strong commitment to jobs, education and conservative fiscal policy that has resulted in significant accomplishments.
Accomplishments Include
The lowest unemployment rates in the state's history and a job growth rate greater than 17 percent, with nearly 400,000 net new private sector jobs created;
The fastest-improving students in the nation, across math, reading and science, and the highest high school graduation rates the state has ever seen;
With the proposed Fiscal Year 2018-19 budget, nearly $1.5 billion invested into K-12 education, with $500 million going to teacher salaries;
Cut $578 million in taxes, including a nearly 30 percent cut on groceries, phase out of the Hall Income tax, and elimination of the inheritance and gift taxes;
A cut in year-to-year spending by more than a half billion dollars;
Tennesseans have access to college, free of tuition and mandatory fees through Tennessee Promise and Tennessee Reconnect; and,
Recognition as having the lowest debt per capita and lowest taxes as a percentage of personal income in the nation, and as one of the best managed states in the nation.
"Seven years ago, we raised our expectations," said Governor Haslam. "We became the kind of leaders who didn't just talk about cutting taxes and enhancing services, we actually did lower taxes while growing our economy and providing access to high quality education. We cannot lose the momentum we have worked so hard to build."
"Make no mistake – this is one of the most effective governments in Tennessee's history, and the momentum we have created will make us the most effective state government in the country," he added.
On presenting his budget priorities for the upcoming fiscal year, Governor Haslam asked legislators to approve three key initiatives, including a proposal presented last week to attack the state's opioid epidemic. "In Tennessee, we write 7.6 million prescriptions a year and there are only 6.6 million of us, a staggering statistic," he said. The plan addresses the issue through three major components: prevention, treatment and law enforcement.
In education, he has proposed the Complete to Compete initiative that restructures financial aid requirements for Promise and HOPE scholarships to keep students on track for on-time completion, and requires community colleges to implement structured, ready-made schedules for all incoming full-time students.
Finally, Governor Haslam has proposed legislation based on the work of the Blue Ribbon Task Force on Juvenile Justice. The task force was created to conduct a comprehensive, data-driven review of Tennessee's juvenile justice system and develop evidenced-based policy recommendations to protect public safety, effectively hold juvenile offenders accountable, contain costs, and improve outcomes for youth, families and communities.
The House Finance, Ways and Means Committee wasted no time in getting down to work on the budget with presentations outlining the plan from Commissioner of Finance and Administration Larry Martin the next day.
Notable budget proposals include:
More than $200 million in new state funding for K-12 education, including additional funds for teacher compensation;
Nearly $100 million for higher education initiatives;
$128 million for job growth investments, including programs that target rural communities; and
Increases to bring the state's Rainy Day Fund to $850 million.
The General Assembly will continue to study the governor's financial plan in the coming weeks and months. The governor's address and budget documents are available at tn.gov/governor.
House State Government committee Hears Testimony on State's Public Records Act
Tennessee Comptroller of the Treasury Chief of Staff Jason Mumpower presented a report to members of the House State Government Committee this week regarding exemptions to the Tennessee Public Records Act (TPRA). The report, which was created in response to a request from Lt. Governor Randy McNally and House Speaker Beth Harwell, identified 538 statutory exceptions currently. This is compared to 89 exceptions 30 years ago.
The TPRA states that all public records are presumed open unless otherwise provided by state law, meaning an exception makes it confidential.
"The challenge for the General Assembly is to balance the need and desire for transparency in government, while at the same time protecting private information," Mumpower stated. "Government officials have an obligation to provide records promptly, but they also have an obligation to not expose information that should not be exposed."
Common exceptions found in the report were personally identifying information and medical records. Exceptions have been added as technology has increased to protect government employees from having their identities stolen through public record access of identifying information.
While some of the exceptions are straightforward, others are not. Mumpower said that there are often "exceptions to exceptions," and some exist only in specific circumstances. Other exceptions are not clearly worded and up to interpretation.
Further work needs to be done, and the General Assembly will carefully review the report before determining what action, if any, should be taken.
Contact Information
Rep. Curtis Johnson
606 Cordell Hull Building
Nashville, TN 37243
615.741.4341
rep.curtis.johnson@capitol.tn.gov
For more information about the Tennessee General Assembly, check our website at: http://www.capitol.tn.gov/