Written by Curtis Johnson
Tennessee State Representative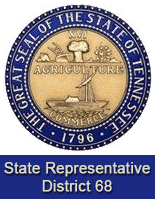 Nashville, TN – Tennessee's opioid crisis was front and center this week as Governor Bill Haslam, members of the General Assembly, and other state leaders announced a comprehensive plan to tackle the problem.
The plan, called TN Together, employs a three-legged stool of enforcement, treatment and prevention to stop the flow of these drugs in the state, help those who are addicted, and prevent citizens from becoming drug-dependent.
Tennessee Department of Health data shows 1,631 Tennesseans died from drug overdoses in 2016, while there were 13,034 nonfatal overdoses reported.
This is despite the fact that over the last several years Tennessee has passed legislation to help prevent abuse by "pill mills" and to strengthen the state's drug monitoring database.
The multi-faceted legislation attacks the problem from all angles to roll back the rising tide of addiction.
Key components in the plan:
Limits the supply and the dosage of opioid prescriptions, with reasonable exceptions, and an emphasis on new patients, with an initial five day supply and daily dosage limits of 40 MME (morphine milligram equivalent);
Increases prevention education in grades K-12 through revisions to the state's health education academic standards;
Establishes a special commission to formulate current, evidenced-based pain and addiction medicine competencies for adoption by the state's medical and health care practitioner schools;
Identifies women of childbearing age who are chronic opioid users and provides targeted outreach about risks and treatment in order to aid in the prevention of Neonatal Abstinence Syndrome (NAS) births;
Invests more than $25 million for treatment and recovery services for individuals with opioid use disorder;
Improves the state's data systems to better and more timely identify critical hot spots for targeting resources and increasing information about patient and community risks;
Provides additional resources to the Tennessee Bureau of Investigation (TBI) for rapid response teams;
Penalizes the use and unlawful distribution of dangerous and addictive drugs, including those that mimic the effects of fentanyl, a drug that is up to 100 times more potent than morphine and is linked to an alarming number of overdose deaths; and,
Provides naloxone to every Tennessee state trooper for emergency treatment of opioid death
More details on the TN Together plan, including help for those suffering from addiction and other resources, can be found at tn.gov/opioids.
Veterans Caucus Considers Legislation
The Joint House/Senate Veterans Caucus, made up of legislators who served in the armed forces, met this week to discuss possible legislation for the 2018 legislative session. One bill would allow a disabled veteran to continue to qualify for property tax relief if they are hospitalized or in a nursing home if they intend to return to that home when they recover.
]320left]Another suggested bill would address false impersonation of an active duty member or a veteran in order to obtain a benefit, service, money, property tax relief or public recognition. Fines would go to maintain and support state veterans homes.
Another possible bill would mandate the Governor appoint at least one honorably-discharged veteran to the State University and Community College Board of Regents.
There are 35 legislators in the Veterans Caucus. Rep. Johnson served in the United States Navy and was honorably discharged. The Veterans Caucus will continue to meet during the legislative session.
State of the State Address
The Senate and House will meet in a joint session on Monday night, January 29, to hear Governor Bill Haslam's State of the State / Budget Address. He is expected to outline his spending priorities and legislative proposals for the 2018-2019 fiscal year. This will be the eighth and final address for the governor. Under Tennessee's Constitution, governors may serve no more than two four-year terms consecutively.
A live stream link will be available at 6:00 on the General Assembly website at: http://www.legislature.state.tn.us/
Contact Information
Rep. Curtis Johnson
606 Cordell Hull Building
Nashville, TN 37243
615.741.4341
rep.curtis.johnson@capitol.tn.gov
For more information about the Tennessee General Assembly, check our website at: http://www.capitol.tn.gov/