Topic: Pastor Tommy Vallejos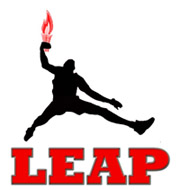 Clarksville, TN – Saturday, January 31st, 2015 marked the 2nd Annual LEAP Gala Celebrating Youth Development at the Emmanuel Family Life Center. Clarksville  Mayor Kim McMillan issued a proclamation with was delivered by City Councilwoman Wanda Smith designating January 31st Youth Development Day and urging those is the Clarksville community to take time on this day to acknowledge the work of the LEAP Organization in making a positive impact on youth in our community.
The Gala opened with a string musical ensemble by the Brio Strings as guests were greeted, seated, and served by youth and mentors. Other entertainment included performances by West Creek High School Step Team, the Distinguished Steppers Unlimited, Mercedes Johnson singing "Confidence" by Tasha Cobb, and a Youth Fashion Show organized by Sharon Edwards featuring fashions from local designers ELO.
«Read the rest of this article»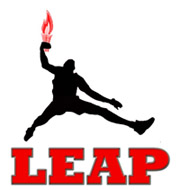 Clarksville, TN – LEAP cordially invites the community to join them for a Charity 3 on 3 Basketball Tournament on March 15th, 2014 from 10:00am to 4:00pm at West Creek High School located at 1210 West Creek Coyote Trail.
This full day of exciting hardwood action is both recreational and competitive as team's battle on the court for trophies, prizes, and bragging rights.
The real drive at the Charity Tournament is not the basketball itself, but rather to help LEAP serve the needs of children who are living in our community.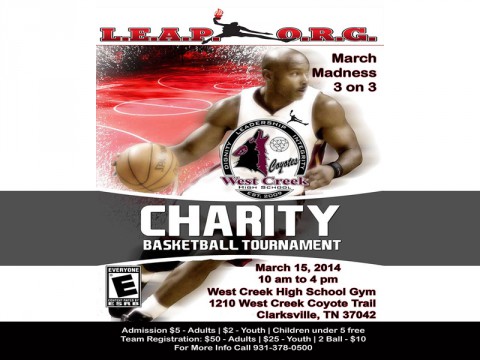 «Read the rest of this article»
Austin Peay State University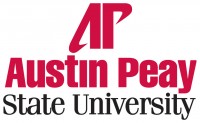 Clarksville, TN – On Saturday, April 21st The Montgomery County Disproportionate Minority Contact (DMC) Task Force under the Tennessee Commission on Children and Youth (TCCY) hosted the 2nd Annual Joint Conference on Juvenile Justice at the Morgan University Center.
This all day conference was sponsored by TCCY, APSU, Planters Bank, and the law office of Merriel Bullock Neal to make it free for youth and parents to participate and receive a catered breakfast and lunch meal.
«Read the rest of this article»

Clarksville, TN – The Annual Barbara Johnson Unity Day Breakfast was held at the Quality Inn Hotel on Wilma Rudolph Boulevard. Many elected officials, pastors, and active members of the community were present to show their commitment to unification for the betterment of the Clarksville Tennessee community.
Awards were presented to former City Council Woman Barbara Johnson and several others to recognize their achievement in addition to elected officials addressing those in attendance.
«Read the rest of this article»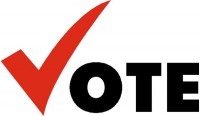 Clarksville, TN – Concluding a heartfelt sermon by Pastor Robert Harris, Pastor Tommy Vallejos and Senator Tim Barnes were given an opportunity to make an appeal to the members of First Missionary Baptist Church. The appeal centered on educating members on the new voter registration ID law and encouraging all those who had not registered to do so.
In an effort to streamline the voter registration process Pastor Tommy and Senator Barnes volunteered to personally assist members with registering to vote after service in the church foyer. Nick Steward and James Lewis also team up with this collaborative initiative of reaching out local churches to for voter education & registration
Clarksville, TN – The 1st Annual Joint Juvenile Justice Conference will take place Saturday, April 16th, 2011 on the campus of Austin Peay State University. The Conference will be located on the 3rd floor in the  Morgan University Center from 8:30am to 2:30pm.
The purpose of the conference is the prevention of juvenile delinquency via increasing the awareness of issues, programs and resources available to youth, parents, teachers, college students, advocates, officers of the court, and concerned citizens. «Read the rest of this article»
The South Korean Levite Choir, on a United States  tour in honor of Korean War veterans, came to Clarksville on February 12 with a stunning performance of music and dance  presented at the First Baptist Church on Madison Street.
The 2009 Winter Praise Concert, conducted by Lee YongHee, included choral work by the choir,  a tenor solo by Park SeongWon, and a haunting violin solo by Ane Hee Young. The Children's Choir was a special delight as they combined their music with charming and meticulously studied dance movement taught and choreographed by Park Eun Suk. «Read the rest of this article»
A delegation of multi-cultural community leaders met with Clarksville-Montgomery County School System Director of Schools Michael Harris today to learn why a number of the city's high school students were not allowed access to inaugural coverage of President Barack Obama.
CMCSS was deluged with phone calls for and against viewing the inauguration on school time, and the questionable e-mail to teachers was the result. The e-mail from the directors of high, middle and elementary schools read in part:
"If any of your teachers is going to show the Inauguration in the classroom it should be tied to their curriculum … I think you may leave yourself open to question if students are just watching the Inauguration in a passive manner. If it is tied to instruction the Inauguration can be a highly relevant event to learn about and from. «Read the rest of this article»
A Multi-Cultural Coalition of leaders from the community and the Clarksville NAACP will meet with the Clarksville-Montgomery County  Director of Schools, Mr. Michael Harris, at 3 p.m. Monday, January 26, to discuss the recent policy disseminated system wide by email that prevented a significant majority of students from viewing the Historic Inauguration of President Barack Obama.
Many students and parents assumed they would watch the historic inauguration of President Barack Obama in class Tuesday but were shocked, disappointed and upset about the majority of classes in which the inauguration

wasn't shown.
Pastor Tommy Vallejos, a community activist and Pastor at Faith Outreach Church, made this passionate statement to the media, community and school system. «Read the rest of this article»
"Brother against Brother. Democrat against Democrat. The Republicans don't need to defeat the Democrats – they're doing that all by themselves." ~~ Beth Robinson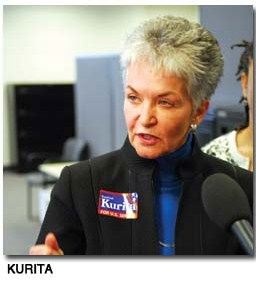 Some long-time Democrats become "Incurably Uncertain" about remaining in their own party after Kurita's election win was discredited on September 13. The eight hour session which seemed to most observers to be a sure win for Kurita ended with a 33-11 vote to null and void Kurita's Senate election win.
When this decision was announced, APSU Associate Professor of Biology, Dr. Joe Schiller, told the officials in the room that "they had been instructed to vote based on the evidence and facts, not on retribution and revenge". He was asked to leave the room. Feeling disenfranchised, he told me that the whole event was a miscarriage of justice and he is seriously reconsidering his party affiliation. "If it is a Republican conspiracy when Republicans vote for Democrats, that's a conspiracy I'd like to have."
"There was no proof. It was a Scopes monkey trial. It was embarrassing", said Beth Robinson, a Clarksville computer systems analyst and member of The Climate Project. "This reminds me of the Supreme Court ignoring the voting public and handing Bush the White House despite the fact that Gore received more votes." Beth said she'd like Senator Kurita to explore a write-in campaign and possibly run as an Independent.
R. Neal wrote his view on the case in the Tenn Views web site. He includes a link to Kurita's attorney's response to the Barnes challenge, which you can read here or at http://www.tennviews.com/files/kuritachallengeresponse.pdf Neal writes that Barnes filed a challenge, citing a litany of alleged irregularities. Kurita filed a response refuting them point by point. Read the rest of Neal's article at http://www.tennviews.com/node/3882. «Read the rest of this article»