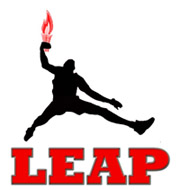 Clarksville, TN – Saturday, January 31st, 2015 marked the 2nd Annual LEAP Gala Celebrating Youth Development at the Emmanuel Family Life Center. Clarksville  Mayor Kim McMillan issued a proclamation with was delivered by City Councilwoman Wanda Smith designating January 31st Youth Development Day and urging those is the Clarksville community to take time on this day to acknowledge the work of the LEAP Organization in making a positive impact on youth in our community.
The Gala opened with a string musical ensemble by the Brio Strings as guests were greeted, seated, and served by youth and mentors. Other entertainment included performances by West Creek High School Step Team, the Distinguished Steppers Unlimited, Mercedes Johnson singing "Confidence" by Tasha Cobb, and a Youth Fashion Show organized by Sharon Edwards featuring fashions from local designers ELO.
The 5 course meal was provided by the Choppin' Block with youth assisting in serving guests. LEAP also has last's years 7 Point Quest Scholarship winner, Danielle McNair presenting a $1,000 Scholarship on behalf of LEAP to Carlee Dill for her winning essay on Perseverance.
Several volunteers were recognized for their contribution to facilitating small groups mentoring sessions. There were 4 special recognition awards presented to individuals who had been instrumental in LEAP's development.
Pastor Tommy Vallejos was one of first individuals who believed in founder Richard "Reason" Garret and guided him to forming the nonprofit organization and helped LEAP obtain the funding and resources to launch the program.
"I remember Richard when he was a little boy at Faith Outreach peeling paint of the walls in the back of the church. Now God is using him to peel back the rough exteriors of the youth to reveal their true potential" commented Tommy
Pastor Robert Harris was recognized next for opening the doors of the Emmanuel Family Life Center for LEAP launch its youth development programs. The next honoree was Dave Davidson, the owner of the former Daymar College building who believed in Richard enough to entrust him with the facility convert the campus in the Leap Plaza.
Joe Shakeenab was recognized for being instrumental in LEAP strategic development as the Board President and Richard's personal mentor. Last, but certainly not least Laquvia Garrett was recognized for her behind the scenes contributions to planning events, field trips, and being an amazing wife to founder Richard.
The evening was highlighted by two testimonials from youth that had been greatly impacted from the program and attributed their growth and development to the caring leadership and mentoring of the LEAP staff and volunteers.
Some of the sponsors and contributors for this event were Joe Shakeenab, Flourishing Families, Leap of Faith Ministries, Travis & Dorthea Johnson, CDE Lightband, Deliverance Outreach Temple, Stassin Sexton of Clarksville Auto Sales, Nashville Predators, Disney World, Dicks Sporting Goods, Mr Charles Hand of Budweiser of Clarksville, Richard & Renita Garrett of Keller Williams Realty, Bill Powers of Wyatt Johnson, Lanika Freeman Scentsy, Jasmine Brooks It's a Wrap, Tyshawna Brandt of Thirty-One, Outlaw Pro-Sound and Lighting, Rossview Department High School Art Department, and Beverly Bridge of the Chopin Block.
For more information on how to get involved with Leap and its positive youth development movement call 931-614-0440 or visit www.leaporg.net