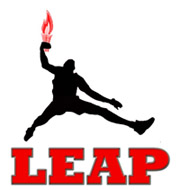 Clarksville, TN – LEAP cordially invites the community to join them for a Charity 3 on 3 Basketball Tournament on March 15th, 2014 from 10:00am to 4:00pm at West Creek High School located at 1210 West Creek Coyote Trail.
This full day of exciting hardwood action is both recreational and competitive as team's battle on the court for trophies, prizes, and bragging rights.
The real drive at the Charity Tournament is not the basketball itself, but rather to help LEAP serve the needs of children who are living in our community.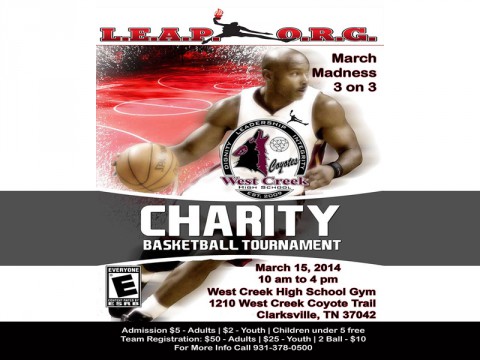 There will be TEN $500.00 scholarship awarded to high school seniors at this event.
Some of the scholarship presenters include Tennessee State Representative Joe Pitts, Pastor Tommy Vallejos, City Councilman Marc Harris and Kaye Jones, Dr BJ Worthington, Carole Daniels, Larson Gafney, Trenton Hassell, and Joe Shakeenab.
The LEAP Organization is a 501(c)(3) non-profit organization that provides holistic mentoring, case management, counseling, career development, and community service learning opportunities for youth. L.E.A.P, which stands for Leadership, Enlightenment, Academic Achievement, and Perseverance, also teaches its members about Outreach, Responsibility, and Growth.
The cost to participate is $25.00 for youth under 17 years of age and $50.00 for adults 18 and up. There will also be a 2 ball tournament that is $10.00 per team. Admission is $5.00 for adults, $2.00 for youth, and free for kids under 5.
The business community is encouraged to sponsor teams of youth to participate and wear their logo's or shirts during the tournament. We also have vendor booth's available for $25.00.
Please make all checks or money orders out to LEAP ORG and mail/deliver them to 1860 Wilma Rudolph Boulevard Clarksville, TN 37040. For your convenience we have added an online payment option.
The LEAP Organization would like to thank the players, the sponsors and the numerous volunteers who make this annual tournament a huge success. The spirit of this amazing event is a testimony to the heart of those in the Clarksville community and we're confident that by working together we can better the lives of children.
For more information or to download the registration form, visit here or call 931.378.0500.