Topic: Sheriff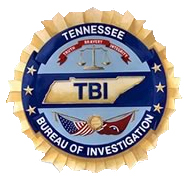 CANNON COUNTY, Tn – An investigation by Special Agents with the Tennessee Bureau of Investigation has resulted in the arrest of a former employee at the Cannon County Sheriff's Department.
At the request of 16th District Attorney General Jennings Jones, on June 11th, TBI Agents began investigating a report of theft from the evidence room at the Cannon County Sheriff's Department.
During the course of the investigation, Agents developed information that identified Tony Barrett, a civilian employee of the Sheriff's Department at that time, as the individual responsible for the theft. Barrett is no longer employed by the Sheriff's Department.
«Read the rest of this article»

Clarksville, TN – Clarksville police located Aaron Glass, age 23, who had an Aggravated Burglary warrant for breaking into a residence in November 2018.
He managed to elude police until yesterday, February 20th, when officers spotted a Nissan which Glass was known to drive, at a hotel on Holiday Drive.
«Read the rest of this article»


Clarksville, TN – The 2014 Political Forums, filmed at Austin Peay State University's Mass Communication Department, will begin airing Monday, May 5th on Channel 9 and 99.
The Forums, brought to you by Leadership Clarksville and the Clarksville Area Chamber of Commerce, will air for two weeks on Channel 9 on CDE Lightband and 99 on Charter Communications. The Forums will begin each day at 9:00am and then repeat at 7:00pm. The Forums are also available to view online at www.clarksvillechamber.com under the 'News' tab. «Read the rest of this article»

Clarksville, TN – Early Wednesday morning,  the Clarksville Police Department responded to an armed robbery at 523 Dover Road (Kangaroo Mart).
The clerk, at the Kangaroo Mart, stated that a black male pointed a handgun at him and demanded the money from the register.
The clerk complied by giving him the money from the register, which totaled $20.00 (twenty dollars). The black male left and fled in a green, 4 door car.
«Read the rest of this article»

Clarksville, TN – Almost everyone has heard that a dog is Man's best friend.  Such a statement has much more significance to the safety of citizens in Montgomery County than you may realize.
The Montgomery County Sheriff's Office utilizes its highly trained four-legged K9 Unit, consisting of Belgian Malinois and German Shepherds, who search and rescue, sniff out dangerous drugs and explosives, track criminals, detain dangerous individuals, and assist in traffic stops.
«Read the rest of this article»