Clarksville, TN – Early Wednesday morning,  the Clarksville Police Department responded to an armed robbery at 523 Dover Road (Kangaroo Mart).
The clerk, at the Kangaroo Mart, stated that a black male pointed a handgun at him and demanded the money from the register.
The clerk complied by giving him the money from the register, which totaled $20.00 (twenty dollars). The black male left and fled in a green, 4 door car.
Officers located the suspect vehicle on Lafayette Road and the driver refused to stop. Montgomery County Sheriff's Office Deputies located the vehicle and stopped near Woodlawn Park, in the county, off of Dover Road.

The driver was identified as Shannon Lamont Bowers.

The clerk was transported to the traffic stop location and identified Mr. Bowers as the man who robbed him. Mr. Bowers admitted to the robbery during an interview and was arrested and booked into Montgomery County Jail.
Shannon Bowers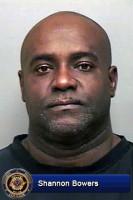 Name: Shannon Bowers
Date of Birth: 6/ 15/ 67
Gender: M
Race: B
Given Address: 376 South Lancaster Road, APT 185, Clarksville, TN
Arresting Officer: Richard Duke
Charged With: Aggravated Robbery
Booked Into: Montgomery County Jail
Bond: $150,000
Sections
News
Topics
Clarksville, Clarksville Police, Clarksville Police Department, Clarksville Tennessee, Dover Road, Kangaroo Mart, Lafayette Road, MCSO, Montgomery County jail, Montgomery County Sheriff's Office, Police, Shannon Lamont Bowers, Sheriff, Tennessee, Woodlawn Park