Topic: Smucker's
Nashville, TN – Adding special touches to baking mixes has always been a favorite with bakers, and muffin mixes are no exception.
From simple additions to complete transformations, Martha White® Muffin Mixes provide the premeasured dry ingredients that give you a head start in creating back-to-school moments in minutes.
«Read the rest of this article»
Nashville, TN – Cupcakes are fun to bake and serve year round, but these all-time favorite treats are the perfect choice for spring celebrations. From school activities to wedding receptions, cupcakes can be as fun or fancy as you need them to be.
If you are ready to take your cupcakes to the next level and surprise your guests with a truly delectable, dense buttery cupcake, this recipe is sure to solidify your reputation as a baking star.
«Read the rest of this article»
Nashville, TN – Summertime evokes charming images of long, peaceful days relaxing in sun-dappled shade, but the reality is that summer usually has more crazy days than lazy ones.
All we can hope to do is carve out a few periods of calm and tranquility to enjoy with family and friends. A casual dinner party with a few close friends or a special family supper can be a brief summer retreat.
«Read the rest of this article»
Nashville, TN – Good Southern cooks have perfected the art of biscuit making and that talent is not limited to the breakfast table. Simple variations of biscuit dough are used to make dumplings, shortcake, cobbler and other treats.
"Thimble Biscuits are a fun variation for the kids that always make me think of grandmother's kitchen," says Martha White® Southern baking expert Linda Carman. "Their name comes from a thimble-sized hole cut in half the dough rounds, which are stacked on whole biscuits, filled with a bit of jam and baked." What a sweet treat!
«Read the rest of this article»
Martha White® Announces Call for Entries for the 16th Annual National Cornbread Cook-Off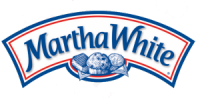 Nashville, TN – For many, the holidays are a time to gather with loved ones and enjoy delicious food. Cherished recipes are handed down through generations and memories are made around the table. Holiday recipes and family favorites made with cornbread now have another way to shine. In time for the holidays, Martha White® and Lodge® Cast Iron look to America's kitchens for original main dish cornbread recipes to be entered in the 16th Annual National Cornbread Cook-off.
"Your annual holiday baking may be the perfect source of inspiration for an original cook-off entry," said the Martha White baking expert, Linda Carman. "Everyone is impressed by traditional recipes with a twist, but ideas for your own original recipe can come from anywhere. Look around you for delicious inspiration."
«Read the rest of this article»
Nashville, TN – Think back to the first thing you remember baking. If you were a child, you were probably baking with a family member, many times a parent or grandparent. Spending time in the kitchen is a timeless family tradition that brings loved ones together.
"These days, there are so many options for family entertainment, but simple things done together as a family often create the most cherished memories," observes the Martha White® baking expert Linda Carman. "Finding time to cook with your kids or grandkids can be about much more than preparing food. Having fun in the kitchen can be quality time spent together, time to talk and listen to each other."
«Read the rest of this article»