Martha White® Announces Call for Entries for the 16th Annual National Cornbread Cook-Off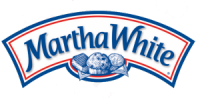 Nashville, TN – For many, the holidays are a time to gather with loved ones and enjoy delicious food. Cherished recipes are handed down through generations and memories are made around the table. Holiday recipes and family favorites made with cornbread now have another way to shine. In time for the holidays, Martha White® and Lodge® Cast Iron look to America's kitchens for original main dish cornbread recipes to be entered in the 16th Annual National Cornbread Cook-off.
"Your annual holiday baking may be the perfect source of inspiration for an original cook-off entry," said the Martha White baking expert, Linda Carman. "Everyone is impressed by traditional recipes with a twist, but ideas for your own original recipe can come from anywhere. Look around you for delicious inspiration."
Here are a couple of past winning recipes to stimulate your creativity and they are both just right for a holiday brunch.
A 2006 winner – Monte Cristo Cornbread Skillet – is a recipe inspired by the classic Monte Cristo sandwich. The strata-like dish features cooked cubes of cornbread with ham, turkey and cheese in a cast iron skillet with a milk and egg mixture poured over the top. Each serving is topped with a sprinkling of powdered sugar and currant jelly/mustard sauce.
One of last year's creative winning recipes – Caramelized Maple Apple Bacon Brunch Bake – features cornbread made with Martha White Cotton Country® or Martha White Buttermilk Cornbread Mix flavored with caramelized bacon, cheese and maple syrup. Cornbread wedges are topped with a sautéed, spiced apple, orange and raisin mixture and garnished with toasted pecans, bacon, nutmeg and a dusting of powdered sugar before serving.
Entries are being accepted now through February 29th, 2012. Ten finalists will compete during the National Cornbread Festival® and the cook-off champion will receive a $5,000 cash prize.
To enter the National Cornbread Cook-Off:
An entry must be an original main dish recipe and prepared with at least one package of Martha White Cornbread Mix using Lodge® Cast Iron Cookware.
Entries must also include contestant's name, address, daytime phone number, date of birth and name of grocery retailer.
To enter online, go to www.marthawhite.com, click on the "Promotion and News" section, and submit your original recipe along with complete contact information.
To enter by email, send your original recipe along with your complete contact information to cornbread@dvl.com. Online and email entries must be received by 11:59am CST on February 29th, 2012.
To enter by mail, send your original recipe and complete contact information on an 8 1/2 x 11-inch paper to: National Cornbread Cook-Off 2012, 700 12th Avenue South, Suite 400, Nashville, TN 37203. Mail-in entries must be postmarked by February 29th, 2012, and received by March 7th, 2012.
Ten finalists will be chosen from all entries. For past winning recipes and complete Official Rules, visit www.marthawhite.com or www.lodgemfg.com. The 10 finalists will prepare their original creations for judging by a panel of food experts during the National Cornbread Festival® on April 28th, 2012, in South Pittsburg, TN. Sponsored by Martha White Foods Inc., Lodge manufacturing Company, and Brown Stove Works, Inc. Contest is open to legal residents of the United States and D.C., 18 years or older. Void where prohibited.
Cash and Prizes
Along with the cast iron skillet crown, the Cook-Off grand champion will receive a $5,000 cash prize. The grand champion can also enjoy cooking all of his or her favorite recipes on a 30-inch stainless steel gas range (a $3,250 value) from FiveStar® Professional Cooking Equipment, a division of Brown Stove Works, Inc., and special gifts from Martha White and Lodge® Cast Iron.
The second prize winner will receive $1,500, and the third prize winner will receive $1,000. The remaining seven finalists will walk away with $150.00. All finalists will receive $500.00 travel reimbursement and a gift basket courtesy of Martha White and Lodge® Cast Iron.
Monte Cristo Cornbread Skillet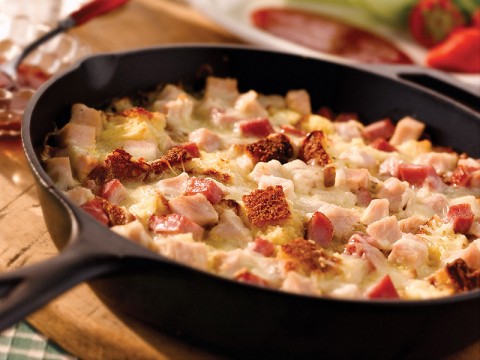 1 (6 oz.) package Martha White Cotton Country Cornbread Mix
Crisco® Original No-Stick Cooking Spray
1 1/2 cups chopped cooked turkey
1/2 cup chopped cooked ham
1 1/2 cups shredded Swiss cheese
4 large eggs
1 cup milk
2 tablespoons mayonnaise
2 tablespoons honey mustard, divided
1 1/2 teaspoons salt
1/2 teaspoon pepper
1/2 cup Smucker's® Currant Jelly
Powdered sugar
1. Prepare cornbread mix according to package directions, except bake in a 10 1/2-inch Lodge® cast iron skillet (cornbread will be thin). Remove cornbread from skillet; cool and cut into cubes. Wipe out skillet with paper towels; spray generously with no-stick cooking spray.
2. Heat oven to 350°F. Place cornbread cubes in skillet. Top with turkey, ham and cheese. In medium bowl, whisk together eggs, milk, mayonnaise, 1 tablespoon honey mustard, salt and pepper until well blended. Pour evenly over ingredients in skillet. Bake 30 to 35 minutes or until set and lightly browned.
3. Melt currant jelly by warming slightly. Add 1 tablespoon honey mustard; whisk to blend.
4. Remove skillet from oven. Cut in wedges, sprinkle with powdered sugar and serve with currant jelly and mustard sauce.
Makes 6 servings
Caramelized Maple Apple Bacon Brunch Bake
Crisco Original No-Stick Cooking Spray
Cornbread
5 applewood smoked thick bacon slices
2 tablespoons pure maple syrup
1 teaspoon ground cinnamon
1 1/2 tablespoons turbinado sugar (raw sugar)
1 large egg
1/2 cup milk
3 tablespoons unsalted butter, melted
1 (6 oz.) package Martha White Cotton Country or Buttermilk Cornbread & Muffin Mix
1/2 cup shredded cheddar cheese
Apple Topping
1/3 cup chopped pecans, toasted
2 tablespoons unsalted butter
1 1/2 cups peeled, chopped Granny Smith apples
1/4 cup orange juice
1/2 cup pure maple syrup
1 teaspoon grated orange peel
3 tablespoons Smucker's® Sweet Orange Marmalade
1/3 cup golden raisins
1/2 teaspoon fresh grated nutmeg
3 tablespoons powdered sugar
1. Heat oven to 375° F. Spray 10-inch cast iron skillet with no-stick cooking spray. Line rimmed baking sheet with parchment paper. Arrange bacon slices on paper in single layer. Whisk together 2 tablespoons maple syrup and cinnamon in small bowl. Brush on top side of bacon. Bake 8 minutes. Sprinkle with sugar. Bake 10 to 13 minutes or until bacon is very brown. Place bacon on paper towel, glazed side up, to drain and cool. Chop into small pieces.
2. Whisk together egg, milk and 3 tablespoons melted butter in large bowl. Stir in cornbread mix and cheese until blended. Set aside 3 tablespoons bacon. Stir remaining bacon into cornbread mixture. Pour into prepared skillet. Bake 25 to 30 minutes or until golden brown.
3. Place pecans in another 10-inch skillet. Toast over medium heat until lightly browned, about 4 minutes, shaking skillet often. Remove from skillet. Set aside. Melt 2 tablespoons butter in same skillet. Add apple. Cook 5 minutes on medium heat. Slowly add orange juice, 1/2 cup maple syrup, grated orange peel, marmalade and raisins. Bring to a simmer.
4. Cut cornbread into wedges. Top with warm apple mixture, pecans, reserved bacon and nutmeg. Dust with powdered sugar.
Makes 6 to 8 servings
---
Crisco and Smucker's are trademark of The J.M. Smucker Company.
National Cornbread Festival is a trademark of National Cornbread Festival, Inc.
Lodge is a trademark of Lodge Manufacturing Company.
FiveStar is a trademark of Brown Stone Works, Inc.