Topic: Butter
Clarksville, TN – Elvis will be on everything at Carolyn Rogers' booth at the Winter Market this Friday-open 9:30am until 1:00pm at the Smith Trahern Mansion (101 McClure Street, Clarksville, TN).
So if you are an Elvis Fan or have a friend that is an Elvis Fan-do not miss this opportunity to shop for specialty items made in Elvis fabric and more. «Read the rest of this article»
Martha White® Announces Call for Entries for the 16th Annual National Cornbread Cook-Off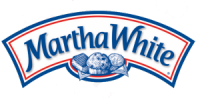 Nashville, TN – For many, the holidays are a time to gather with loved ones and enjoy delicious food. Cherished recipes are handed down through generations and memories are made around the table. Holiday recipes and family favorites made with cornbread now have another way to shine. In time for the holidays, Martha White® and Lodge® Cast Iron look to America's kitchens for original main dish cornbread recipes to be entered in the 16th Annual National Cornbread Cook-off.
"Your annual holiday baking may be the perfect source of inspiration for an original cook-off entry," said the Martha White baking expert, Linda Carman. "Everyone is impressed by traditional recipes with a twist, but ideas for your own original recipe can come from anywhere. Look around you for delicious inspiration."
«Read the rest of this article»
Nashville, TN – A homemade cake makes every holiday memorable. Although we love fancy cakes, the ones that become classics are often unpretentious and uncomplicated for their subtle rich flavor. Pound cakes fit that description perfectly. Originally made with a pound each of butter, sugar, eggs and flour, pound cakes have evolved into an abundance of delectable variations.
"I think a pound cake is appropriate for almost any occasion," said the Martha White® baking expert, Linda Carman. "Serve toasted for breakfast, plain for dessert or paired with fruit, ice cream or sauces. Easy to wrap, they make wonderful holiday gifts or dessert to carry to a holiday get-together."
«Read the rest of this article»

Nashville, TN – Happy Holidays! The Tennessee Department of Agriculture has a gift for you: a store full of locally grown and made products you can keep inside your telephone.
Savvy cell phone users can now point their phone cameras at a "quick response," or "QR" code, and launch an application that takes them straight to the Pick Tennessee Products website and Taste of Tennessee Online Store. Once the code has done its job, shoppers can instantly access all the local farm-direct ingredients, artisan foods, gift baskets, and even Christmas trees listed at www.picktnproducts.org. «Read the rest of this article»
Nashville, TN – Trick or treating is not the only way to enjoy Halloween. Getting friends together to make and decorate cookies at home can turn into a party for kids and adults alike.
"Depending on the age and experience of the children, you may prefer to have cookies baked in advance, then kids can spend their time decorating," says the Martha White® Baking Expert Linda Carman. "Cut cookies into appropriate shapes or make them all round and let the kids apply their own decorations."
«Read the rest of this article»
Nashville, TN – For more than 40 years, Saucepan Brownies have made the list of Martha White® Kitchen Favorites. They are moist and chocolaty, easy to stir up and use ingredients that you usually have on hand.
"We still love these brownies, but with many people looking for more intense chocolate flavor, we thought it might be fun to have to a double chocolate version of the classic," said Martha White baking expert Linda Carman. «Read the rest of this article»