Nashville, TN – For more than 40 years, Saucepan Brownies have made the list of Martha White® Kitchen Favorites. They are moist and chocolaty, easy to stir up and use ingredients that you usually have on hand.
"We still love these brownies, but with many people looking for more intense chocolate flavor, we thought it might be fun to have to a double chocolate version of the classic," said Martha White baking expert Linda Carman.
Our Double Chocolate Saucepan Brownies use both unsweetened and semi-sweet chocolate for a full and more complex chocolate flavor. This recipe is a breeze to make because the butter and chocolate are melted in a saucepan and all the remaining ingredients are added and mixed in the same pan. Using self-rising flour means you don't have to measure small amounts of baking powder and salt. Because it is so easy, this rich brownie is the perfect recipe for last-minute company, bake sales or a family picnic.
Double Chocolate Saucepan Brownies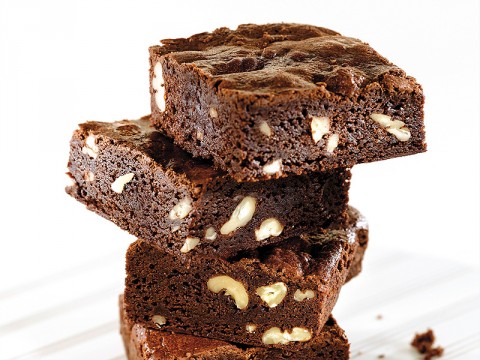 Crisco® Original No-Stick Cooking spray
1/2 cup butter
2 ounces unsweetened chocolate
2 ounces semi-sweet chocolate
1 cup sugar
2 large eggs
3/4 cup Martha White® Self-Rising Flour
1 teaspoons vanilla extract
3/4 cup chopped pecans or walnuts
Directions
1. Heat oven to 350°F. Spray bottom of 8-inch square baking pan with no-stick cooking spray. Line pan with 16×8-inch aluminum foil. Leave overhang to remove baked brownies. Spray with no-stick cooking spray.
2. Melt butter and chocolate in medium saucepan over low heat until smooth, stirring constantly. Add all remaining ingredients. Beat with wooden spoon until smooth and shiny.
3. Spread batter in prepared pan. Bake 25 to 30 minutes or until toothpick inserted in center comes out with wet crumbs. Cool 1 hour or until completely cooled. Cut into bars.
Makes 16 brownies
Crisco is a trademark of The J.M. Smucker Company.