Nashville, TN – Think back to the first thing you remember baking. If you were a child, you were probably baking with a family member, many times a parent or grandparent. Spending time in the kitchen is a timeless family tradition that brings loved ones together.
"These days, there are so many options for family entertainment, but simple things done together as a family often create the most cherished memories," observes the Martha White® baking expert Linda Carman. "Finding time to cook with your kids or grandkids can be about much more than preparing food. Having fun in the kitchen can be quality time spent together, time to talk and listen to each other."

Remember, cooking with kids may not always be the fastest or easiest way to make a recipe, but you won't regret the time spent together. Be sure to select recipes that are age appropriate. The last thing we want to do is frustrate budding chefs with recipes that are too difficult.
Practical Lessons
Although secondary to quality time together, cooking provides opportunities to sneak in some practical lessons. With young children, you can practice simple reading, numbers and motor skills. Cooking is also a good way to practice using fractions and advanced reading skills and improve hand-eye coordination. As they grow older, children can learn about kitchen equipment and basic cooking techniques so they can continue to improve and develop skills that will last a lifetime.
Fun Recipes
Choosing fun and simple recipes is good way to get started. At first, using a convenient mix will make preparing treats easy. Martha White Muffin Mixes that require only the addition of milk to the dry ingredients are a great way to start. Or choose a recipe that starts with a mix like Quick and Easy PB & J Muffins. Add peanut butter chips to the strawberry muffin mix batter and fill with a dollop of strawberry jelly or jam. After baking, spread with peanut butter. Feel free to mix and match by using your favorite fruit flavored muffin and jelly or jam, like blueberry muffins with peach jam or banana muffins with grape jelly.
Chocolate Covered Banana Muffin Pops take a little more effort to make, but the trick is to choose steps for the child that are at the appropriate skill level. Cake pops are popular these days and they are especially easy to make starting with baked muffins. Simply crumble the muffins and mix with canned frosting, then roll into small balls. Dip in candy coating and decorate. The secret to making the pop stay on the stick is to make the balls small and be sure the candy coating covers some of the stick to lock the pop in place.
Whoopie pies are another popular baking trend. Similar to a sandwich cookie, whoopie pies are usually soft and cake-like. You can never go wrong with Chocolate Chip Whoopie Pies. These cakey chocolate chip cookies made with a chocolate chip muffin mix and filled with chocolate marshmallow filling are fun to make and serve.
Whatever recipe you decide to make with your kids, just keep the experience enjoyable. Things might get a little messy, but it's a small price to pay for lasting memories.
Quick and Easy PB & J Muffins
Crisco® Original No-Stick Cooking Spray
2 (7 oz.) pkgs. Martha White® Strawberry Flavored Muffin Mix
1 cup milk
1/2 cup peanut butter chips
2 tablespoons Smucker's® Strawberry Jelly
Jif® Creamy Peanut Butter
Directions
1. Heat oven to 425°F. Lightly spray 12 medium muffins cups with no-stick cooking spray or line with paper baking cups.
2. Stir together muffin mix and milk in medium bowl just until moistened. Fold in peanut butter chips. Fill muffin cups about 1/2 full. Spoon 1/2 teaspoon jelly into center of batter. Top with remaining batter.
3. Bake 14 to 17 minutes or until golden brown. Cool 2 to 3 minutes in pan. Remove from pan. Spread tops of muffin with peanut butter.
Makes 12 muffins
Chocolate Covered Banana Muffin Pops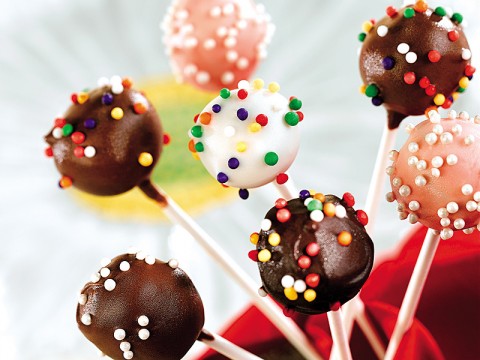 Crisco® Original No-Stick Cooking Spray
1 (7.6 oz.) pkg. Martha White® Banana Nut Flavored Muffin Mix
1/2 cup milk
3/4 cup Pillsbury® Creamy Supreme® Cream Cheese Flavored Frosting
1 (14 to 16 oz.) pkg. chocolate candy coating or your favorite flavor candy coating
Craft sticks and foam block
Colored sugar, sprinkles or other decorations
Directions
1. Heat oven to 425°F. Lightly spray 6 muffin cups with no-stick cooking spray. Combine muffin mix and milk in small mixing bowl. Stir just until moistened. Fill muffin cups about 2/3 full. Bake 14 to 17 minutes or until light golden brown and toothpick inserted in center comes out clean. Cool 2 to 3 minutes in pan. Remove and cool completely.
2. Crumble cool muffins very finely in medium mixing bowl or pulse in food processor until very fine. Stir in frosting until well blended. Cover and chill 1 hour or place in freezer for 10 minutes. Roll into 1-inch balls. Place on plate or cookie sheet. Place in freezer for 1/2 hour.
3. Melt candy coating according to package directions. Place sticks in cake pops. Transfer coating to container deep enough to fully dip pops and top part of stick, such as a 1-cup measuring cup. Gently dip pops in coating, allow some of the coating to drip off. Sprinkle with colored decorations. Stick into foam block to dry. Store in refrigerator.
Makes 30 pops
Chocolate Chip Whoopie Pies Cookies
Crisco® Original No-Stick Cooking Spray
2 (7.4 oz.) pkgs. Martha White® Chocolate Chip Muffin Mix
1/4 cup firmly packed dark brown sugar
4 tablespoons butter, melted
1 large egg, beaten
1 teaspoon vanilla extract
Filling
6 large marshmallows
4 tablespoons butter
3 tablespoons milk
2 cups powdered sugar
1/2 cup unsweetened cocoa powder
1 teaspoon vanilla extract
Directions
1. Heat oven to 350°F. Spray baking sheet with no-stick cooking spray. Stir together muffin mix and brown sugar in large bowl. Stir in 4 tablespoons butter, egg and 1 teaspoon vanilla until well blended.
2. Roll dough by heaping teaspoons into balls. Place on baking sheet. Bake 8 to 10 minutes or until light golden brown. Cool 2 minutes on baking sheet. Remove to cooking rack. Cool completely.
3. Place marshmallows, 4 tablespoons butter and milk in medium heavy saucepan over low heat. Stir until marshmallows are melted, 3 to 4 minutes. Remove from heat. Sift together powdered sugar and cocoa. Stir into marshmallow mixture until smooth and satiny. Stir in 1 teaspoon vanilla. Spread a scant tablespoon of filling on flat side of cookie. Top with another cookie. Repeat with remaining cookies.
Makes 16 whoopie pies
Variation
Fluffy Chocolate Chip Whoopie Pies: Make cookies and cool as directed. Place half of cookies, flat side up, on a baking sheet. Place one large marshmallow on each cookie. Bake at 350°F for 3 to 4 minutes, or until marshmallows are light golden brown. Remove from oven and top each cookie with another cookie, pressing gently. If desired, garnish the marshmallow filling with chocolate chips.
Smucker's, Jif and Crisco are trademarks of The J.M. Smucker Company. Pillsbury is a trademark of The Pillsbury Company, LLC, used under license.