Companies near and far have interest in APSU Chemical Engineering Technology Graduates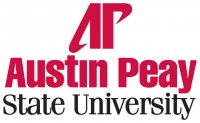 Clarksville, TN – A map of the United States hangs in an upstairs hallway of Austin Peay State University's Hemlock Semiconductor Building (HSC) with a sign above it that reads, "Where are they now?" The map is covered with arrows pointing to the companies nationwide where graduates of the University's four-year-old Chemical Engineering Technology Program (ChET) now work.
"As you can see, it is concentrated around middle Tennessee and southern Kentucky," Dr. Chester Little, director of the APSU ChET program, said. "I have one there in Topeka, KS, and one in Los Angeles. One in Ohio."
In 2008, APSU was awarded a $6.4 million grant from the state of Tennessee to develop the associate degree program, following the announcement that Hemlock Semiconductor would build a new production facility in Clarksville. Two years later, the ChET program moved into the new, state-of-the-art HSC building, named after the company because of its generous $2 million donation.
But that name sometimes causes a bit of confusion. Many people mistakenly believe that ChET students can only get jobs at Hemlock, and when the company fulfills its hiring needs, no more jobs will be available.
"That's not the case," Little said. "We realized over a year ago that we're going to have to look for other companies for our students, and some companies found us. For our students who aren't geographically restricted, who can go out within a 200-mile radius, those people find jobs."
More than 20 companies – including Nissan in Franklin, Lamberti Synthesis in Chattanooga and Division Five Fabrication in Russellville, KY – have either hired students from the program or promoted students who already worked for the company.
"These businesses have recognized the value of this program," Little said.
Kyle Doyel, president and CEO of the Nashville-based Kyzen Corp., immediately saw the worth of the APSU program. When his precision cleaning chemistries and services company needed expert technicians, they contacted ChET students.
"We interviewed a number of students, and we've been just thrilled with the quality of the candidates," he said. "The program itself is exactly what we're looking for in what we do. We probably have three people from that program here."
A few months before ChET student Chelsea Jewell graduated, she started looking at her different career options. Little encouraged her to apply to Kyzen.
"In my first interview with Kyzen, I was asked specific questions about the internal intricacies of one of our most common machines," Jewell recalled. She answered the questions easily, having worked with similar machines at APSU. She also impressed her interviewers with her ability to write about complex, technical subjects.
"One of the strongest skills I gained from the program is the technical writing aspect," she said. "I have to be able to convey my testing methods and analyze the results. My technical reports must then translate those results to our customers in industry terminology. I've been told that my writing skills were what helped me stand out for this job."
In May of this year, Kyzen hired Jewell. She is one of several APSU ChET graduates employed by the company. Little said it isn't unusual for these companies to hire more than one of his former students.
"Once we get a student into a place, they'll most likely ask for number two and number three within a year," he said. "What that says to me is that they think so highly of my students that they want more."
This past summer Little took a road trip, visiting companies that have hired his students and stopping by others to let them know about the APSU program. He said the program still has a good relationship with the Hemlock Semiconductor Co. in Clarksville, but he specified that there are more opportunities for students who can leave this area.
"If for some reason you have to spend the rest of your life within 10 miles of Clarksville, you've picked the wrong career," he said. "Most of these jobs are in the chemical industrial parts of the country, not Clarksville or even Nashville."
But that isn't much of an issue for his students any more, he said. When the program first started, the University was overwhelmed by a frenzy of applicants. Many of those individuals knew nothing about chemical engineering technology and had no real interest in the field.
"We now have students who are not interested in the initial splash and hoopla," Little said. "These folks are legitimately interested in this program, and I expect our retention to be higher."
That's good news for chemical engineering technology companies looking for skilled workers.
"The program up there has a lot of nontraditional students, so you have people a little more mature and know what they're going to do in life," Doyel, the CEO of Kyzen, said. "That tended to be one of the attractive things to us. We'll continue mining their good students."
The companies that have hired, promoted or made offers to ChET graduates include:
Hemlock Semiconductor Group LLC – Clarksville
Tennessee Valley Authority – Cumberland City
Lamberti Synthesis – Chattanooga
Trane eBusiness – Fort Campbell
ForceX Inc. – Clarksville
Ogihara American Corp. – Clarksville
Douglas Autotech – Hopkinsville, Ky.
Riken Elastomers – Hopkinsville, Ky.
Trane – Ingersoll Rand – Clarksville
Hendrickson USA – Somerset, Ky.
Kyzen Corp. – Nashville
Innophos Corp. – Nashville
Division Five Fabrication – Russellville, Ky.
ChemTex Corp. – Sharon Center, Ohio
Goodyear Tire and Rubber – Topeka, Kan.
Sun Products – Bowling Green, Ky.
Nissan – Franklin
CYTEC Chemicals – Mount Pleasant
Mitsubishi Electric – Memphis
Wacker Chemie Ag – Calvert City, Ky.
FiberWeb – Old Hickory
Tesoro Petroleum – Carson, Calif.
For more information on the APSU ChET program, visit the website, www.apsu.edu/chemical-engineering-technology, [3] or call 931.221.1608.