Austin Peay State University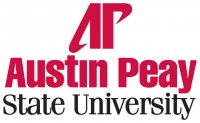 Clarksville, TN – Earlier this month, a group of Austin Peay State University students and faculty members traveled to Vanderbilt University and made an impressive showing at the Tennessee Academy of Science's Centennial Meeting.
During that meeting, which celebrated the 100th gathering of the state's top scientific and mathematical minds, several members of the APSU community were recognized for their outstanding work. In the math and computer science competition of the meeting, chaired by APSU associate professor of mathematics Dr. Ben Ntatin, APSU students placed first and second in oral presentations of their research.Two groups of APSU students actually tied for the first-place honors. Student Kristen Knight and Dr. Alzaatreh Ayman, assistant professor of mathematics, received one of those first place honors for their presentation, "On the gamma-half normal distribution and its applications."
The other first-place winners were students Liliana M. Alvarez and Anne M. French and associate professor Dr. Ramanjit K. Sahi for their presentation, "Interplay of words with knots through Markov's chain."
APSU student Stephanie Jessie also tied with a team of Belmont University students for second place with her presentation, "Students' mathematical beliefs – pictures tell the story better."
Other APSU students and faculty members who delivered oral presentations at the TAS meeting include:
Lucas Johnson, Justin Cook, Reed Curtis, Larry Nelson, Stephen Stone, Donny Peay and Cory Medlin, "The Case of the Smudged Map."
Rachel Balthrop, Elizabeth Dobbs, Jessica Dotson, Michael McAllister, Derek Nobes and Brandy Smith, "A Road Between Two Towns."
Reneice Glasper, Ashley Heinreich, Patrick Shelton and Murphy Rogers, "Population Growth with Migration."
Zaklina Cetic, Sean Cather, Michael Kuwonu, Skylar Sullivan and Justin Cook, "River Pollution."
Preston Mathews, Janica Bolden, Dusty Adkins and Jessica Dobbs, "Effects of Harvesting Deer Population in Tennessee."
Emarus D. Shay and Dr. Ramanjit K. Sahi, associate professor of mathematics, "Friezing Triangulated Polygons."
Sahi and Dr. Samuel Jator, professor of mathematics, "Self Starting Trigonometrically-fitted Second Derivative Method for Orbital Problems."
Dr. Alzaatreh Ayman, assistant professor of mathematics, and Dr. Indranil Ghosh, assistant professor of mathematics, "A Study of Gamma-Pareto (IV) Distribution and its Applications."
Dr. Ben Ntatin, associate professor of mathematics, "Geometry of the Finite Method for Solving Elliptic Partial Differential Equations."
For more information on APSU's successful participation at the meeting, contact Ntatin at ntatinb@apsu.edu [1].