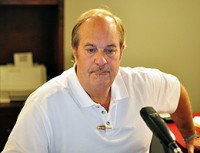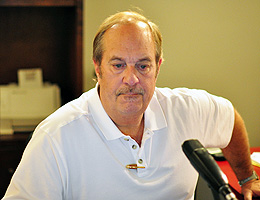 Clarksville TN – When 14 year old Kaitlan McLaughlin boarded a plane with her mother Deanna to fly to her grandfather's funeral in Vancouver Washington, little did she know what a surprise awaited her when she got there.
She would meet NBA star Anthony Davis with the New Orleans Hornets.
Let's start from the beginning.
Kaitlan's grandfather, Deanna's father, Major Ronald E. Thomas (Ret) passed away in August.  Major Thomas had donated his remains to medical research, so it wasn't until December 15th that his family could honor his memory with a funeral service. Kaitlan accompanied her mother Deanna to the funeral.
While making travel arrangements, Deanna checked to see if the Portland Trailblazers would be in town, and maybe the family could catch a game while they were there.  Knowing how big of a basketball fan her daughter Kaitlan was, she thought it would be a good way to help the family "wind down" from all of the emotion of the weekend.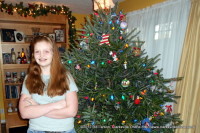 [2]Well, guess what?  The Trailblazers WERE in town, and guess who they were playing?  The New Orleans Hornets.  Guess who plays for the New Orleans Hornets?  Anthony Davis.  And "AD's" biggest fan in the world is?
Kaitlan McLaughlin.   New Providence Lady Mustangs, #45.  Clarksville Tennessee.
But wait.  There's more.
Knowing how much Kaitlan loved Anthony Davis, her mother set out to see if she could arrange a "photo op," "meet and greet," anything to give her daughter the thrill of a lifetime, so she wrote this e-mail to the Hornets:
To Whom It May Concern,
My name is Deanna McLaughlin I live in Clarksville Tennessee. I am writing today to make a special request. My 14 year old daughter and her Dad are huge University of Kentucky Basketball fans. My daughter, Kaitlan, and I are traveling to Vancouver Washington on Friday to attend the funeral of my Dad who was a Vietnam Vet. Since we were going to be in the Portland area I purchased tickets to attend the Portland Trailblazers game on Sunday December 16th. Kaitlan plays basketball and has never been to a professional basketball game. When I told my daughter about the game and that it was Portland vs. New Orleans she said, "Mom, New Orleans, really?  Anthony Davis plays for New Orleans". Needless to say she is extremely excited to attend the game. I was wondering if there was any way that she could meet Anthony Davis at the Portland game on Sunday?  We will be attending the game with my brother and niece.
Thanks in advance for your consideration.

Deanna McLaughlin
Not a chance huh?
Well, guess again.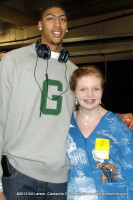 [3]A representative of the New Orleans Hornets contacted Deanna and said they would have passes for them to meet Anthony after the game.
Score!
Kaitlan had no idea what her mother was up to.  When Kaitlan's mom told her they would be going to a Portland Trailblazers game and they were playing the New Orleans Hornets, the first thing Kaitlan said was "Anthony Davis plays for the Hornets!"
This was shaping up to be quite a surprise.
Kaitlan became a huge basketball fan by way of her father David, a Clarksville police officer.
"My dad and I watch all of the Kentucky games together, and Anthony Davis was his favorite player last year, so he became my favorite player because of my dad.  I try to learn ways that I can be a better basketball player, by watching what they do" Kaitlan said.
So Kaitlan, wearing her Kentucky sweatshirt,  her mom and uncle took the short drive across the Columbia River into Portland for the big game. There was just one problem. Deanna had not heard back from the Hornets on how they were to get their post game tickets to meet Anthony.  So she checked with "will call" when they got to the arena, but nothing.
As they were going to their seats, Deanna finally got a phone call from the Hornets rep, and told her where to meet after the game.
Kaitlan still didn't know.
[5]During the game, Kaitlan happened to see a text message on her mother's phone that read, "have you told her?" and started to get suspicious.
"I started to think something was going on, and that's when mom told me that I was going to meet Anthony Davis after the game.  I was so excited" said Kaitlan.
So after the game, they were to meet the team representative down on the court and they would be escorted to the players.  So as security was telling everybody to "clear out," the representative met them and took them to the players.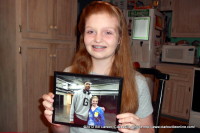 [6]"We watched all of the players leave the locker room and that's when I saw Anthony", Kaitlan said.  "He came over to us and I didn't know what to say.  My dad had reminded me of his Kentucky teammates, his coach and everything so I could say something to him when we met, but I was speechless.  I couldn't say anything.  I WAS STANDING WITH ANTHONY DAVIS!"
Her mother Deanna said, "I can't remember the last time she was at a loss for words."
Kaitlan had about a ten minute visit with her basketball hero, but it seemed like time stood still.  Her mom had pulled off an incredible surprise for her daughter, with memories that would last a lifetime. Davis signed her program and took several pictures with the family.
So what did all the kids at school think when you got back?
"Well, I was pretty cool that day.  All the boys on the basketball team thought it was the greatest thing that I had met Anthony Davis.  They thought the picture of me and him was awesome."
Kaitlan said she loves going to Austin Peay State University basketball games, and hopes to one day play college ball.  As an eighth grader at New Providence Middle School, she has plenty of time to work on her game.
But on this one special night, a mother's love for her daughter made this trip an experience she would never forget. On this one night, for only a moment, a little girl's love for the game, proved that dreams really do come true.